Zen and the art of training police protection units
By Fu Jing | China Daily | Updated: 2017-05-09 07:32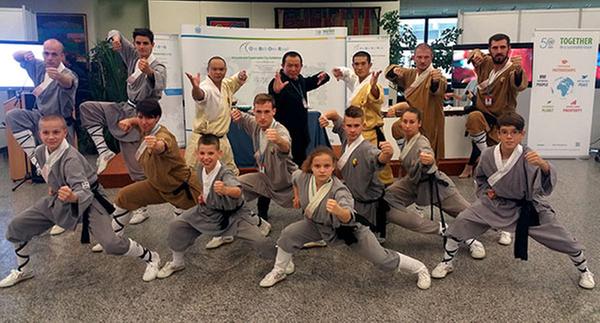 Wang Deqing (in black) and his students display their skills at the United Nations office in Vienna. Provided to China Daily
Hungarians claim to be the only Europeans with Eastern roots. That may explain the decision to incorporate elements of Zen philosophy and kung fu in training courses for the country's top police units and the presidential bodyguard.
Wang Deqing, a 32nd-generation Shaolin Temple warrior monk who moved to Hungary in 1999, works at Hungary's National Police School as head coach of the Special Police Force and coach of the president's escort.
"Many people think I equip them with kung fu skills," said Wang, speaking at the International Chan Wu Federation center he established in 2003.
"That's not true, especially when training the president's sniper team," he said.
In practice, "Chan", which refers to Zen Buddhism, and "Wu" (martial arts) are equally important: "I mainly use Chan to cultivate the minds of the snipers, who always work under high-pressure conditions," he said.
"I have taught them how to be calm and have a peaceful mind, even in super-dangerous and critical situations, or when working alone in concealed surroundings."
His efforts were recognized when he was appointed executive chairman of the China-Hungary Police Exchange Association, associated with Hungary's Ministry of Interior Affairs.
Recently, Peter Medgyessy, Hungary's former prime minister, invited Wang to dinner and thanked him for his contribution to boosting Chinese culture in the country.
Wang said Medgyessy's assistance as prime minister from 2002 to 2004 was essential to the promotion of traditional Chinese medicine, acupuncture, kung fu and even the Chinese language in Hungary: "Medgyessy is a visionary and respected Hungarian leader who boosted Sino-Hungarian exchanges."
Wang also trains Chan Wu coaches in Europe, home to many of the 30 branches of the Chan Wu Federation across the world, which cater to about 200,000 practitioners.
"I think it is most popular in Hungary. One Hungarian coach told me he has taught about 1,000 students," said Wang. "That's an amazing achievement."
His students are required to preserve and promote authentic Shaolin kung fu as it was taught to him by his masters, including traditional etiquette and disciplines.
He said the rules encourage students to cultivate martial virtues and establish harmonious, happy attitudes and values.