Plans afoot to seek World Heritage status for Silk Road outpost
By Wang Kaihao | China Daily | Updated: 2017-05-09 07:19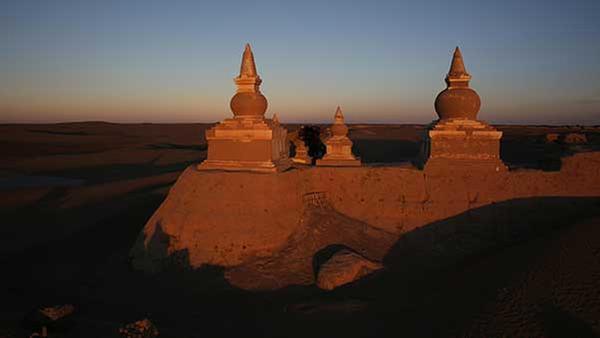 Juyan, which lies deep in the Gobi Desert in the Inner Mongolia autonomous region's Alxa League, was once a key stop on the ancient Silk Road. It hosts ruins today.[Photo provided to China Daily]
Juyan, which lies deep in the Gobi Desert, is familiar to some when it comes to ancient frontier outposts, even though most people probably do not know where it's located.
Its fame is largely attributed to its mention in On a Mission Towards the Frontiers by Tang Dynasty (618-907) poet Wang Wei.
Juyan, located in Ejin Banner, a county-level administrative region in the Inner Mongolia autonomous region's Alxa League, was once a key stop on the ancient Silk Road.
At a recent symposium organized by Peking University in Beijing, experts and local government officials said that preparations were underway to apply for Juyan to be inscribed on UNESCO's World Heritage list.
According to the plan, a cultural heritage park will be set up in the area before 2020, and official bidding documents will be handed in by 2025.
"The site was a witness to exploration and communication along the Silk Road," says Sun Jianjun, deputy director of Alxa's cultural heritage administration.
"It had huge political, economic and cultural significance in ancient times."
Juyan, covering an area of 15,600 square kilometers, has some of the largest surviving remains of the Great Wall, Sun says.
The remains, dating back to the Han Dynasty (206 BC-220 AD), comprise 172 beacon towers and over 12.8 km of wall.
"Juyan was created thanks to the Han idea of combining a military post and agriculture," he says. "It (Juyan) was a highly developed agricultural site in ancient times."