The story behind the Laotian lyrics of the viral Belt and Road song
CGTN | Updated: 2017-05-10 11:06
The songwriter Vilayphone Vongphachanh [Photo provided to CGTN]
A new song about the Belt and Road Initiative written by Laotian musician Vilayphone Vongphachanh has gone viral throughout Asia.
The man behind the song shares the story of his work, as well as the reason for composing it. According to him, the tune and lyrics can help people remember the concept better.
Working at the Laotian channel of CRI (China Radio International), Vongphachanh has been in China for six years. Talking to the inspiration behind the song, Vongphachanh said "I first heard about the Belt and Road Initiative through the media. Then I came up with the idea of writing a song to help Lao people to remember the policies and the concept of the initiative. Because tunes and lyrics help us remember. So even if they don't understand the concept of the initiative yet, they can remember it."
Changes brought by the Belt and Road Initiative in Laos are also noted by Vongphachanh and his team, "We did some research before we started. We got to know the goals of the Belt and Road Initiative such as improving infrastructure connectivity and increasing trade volume. One of the Belt and Road's many big achievements is the ongoing construction of the China-Laos railway. This railway will connect China with Laos and other ASEAN countries. It stretches from China's Yunnan Province all the way to Singapore."
Now the song has quickly spread online, making it a hot topic of discussion among netizens in both China and Laos.
"The song was published in 2016 to commemorate the 55th anniversary of Laos establishing diplomatic ties with China. It was first broadcast through the Vientiane bureau of CRI. At first the listeners didn't understand the words 'Yi Dai Yi Lu', some even thought they were girls' names. But the more they listened, the more they understood. My audience loves the song," said Vongphachanh.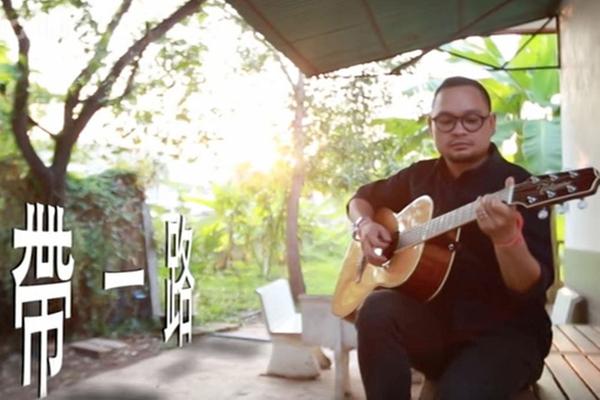 The songwriter Vilayphone Vongphachanh [Photo provided to CGTN]