Folk time
By Chen Nan | China Daily | Updated: 2017-05-11 06:49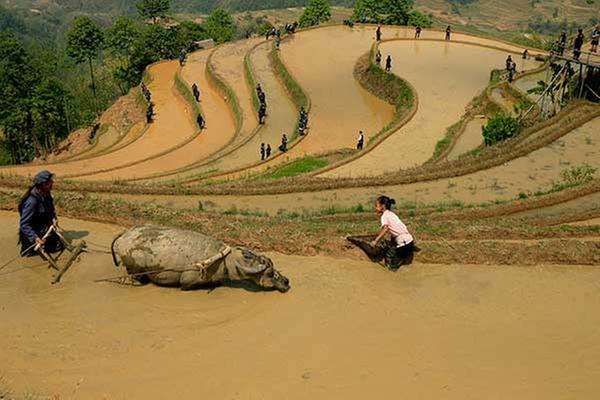 The Hani work on the terraced paddy fields in Yunnan province. Their lifestyle and culture are a source of inspiration for Chinese musicians.[Photo by Jiang Dong/China Daily]
Members of China National Symphony Orchestra make trips to Yunnan province to learn from local musicians. Chen Nan reports.
In 1983, when Guan Xia was learning to compose at the Central Conservatory of Music in Beijing, he and four classmates traveled to the Honghe Hani and Yi autonomous prefecture in Southwest China's Yunnan province to seek inspiration from the folk music of the Hani and Yi ethnic groups.
After spending days on a train from Beijing to Kunming, the provincial capital, and then a few more days on a bumpy bus ride and a trek through the mountainous roads, the five finally saw the stunning terraced fields, among which the Hani people live, and watched them perform their ancient folk songs, accompanied by traditional instruments.
The trip inspired Guan's future compositions, in which he combined ethnic and classical music.
Guan, who has been the president of China National Symphony Orchestra since 2004, recalls how Hani folk music influenced him.
In April, he arranged to send five young Chinese composers to remote villages in Honghe again along with musicians of the national orchestra.