Couple's love lasts longer than life
Xinhua | Updated: 2017-05-15 08:44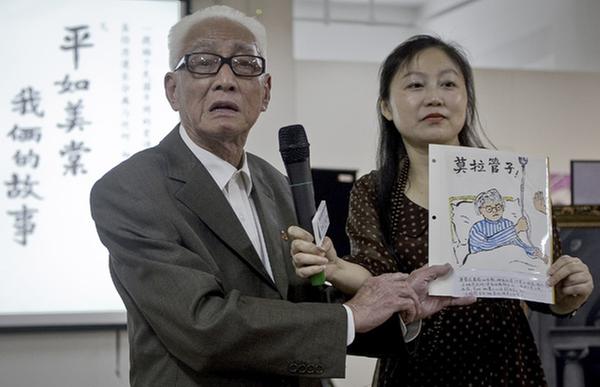 Rao Pingru (left) displays one of his drawings during a book promotion for Our Story, an artistic memoir for his late wife. [Photo by SUN ZHAN/CHINA DAILY]
NANCHANG-The love between Rao Pingru and his late wife, Mao Meitang, has lasted beyond death.
After Mao passed away in 2008, less than five months before their 60th wedding anniversary, Rao, now 96, drew more than 200 pictures to memorialize his wife and compiled them into 18 albums.
His graphic memoir, Our Story, was published by Guangxi Normal University Press in 2013 and has sold more than 200,000 copies.
A French version was released in January, and more than 26,000 copies have been printed. In recent months, it was a best-seller in the China category on the Amazon France website.
An English version is expected soon.
"This story took place in China, but will be read and shared by audiences across the world," said Yin Muyun, who edited the book. "It helps the elderly remember the past and makes youth yearn for everlasting love."
Overcome by the death of his wife, Rao, a former magazine editor, picked up his pencils and crayons and drew everything he remembered about her, from their first date and wedding ceremony to their first argument and her last teardrop on her deathbed.
His granddaughter posted several pictures on Sina Weibo in 2012, which attracted attention from netizens and publishers.
"Art is the best way to reach people," Rao said. "I just wanted to record our story for our grandchildren, so they know more about their grandma."
The couple's story, which includes romance, war, separation, disease and death, began in 1946 when Rao and his father visited Mao's home to arrange their marriage.
A caption under that picture reads: "My father and I visited her home. Through an open window, I suddenly saw a beautiful 20-something girl sitting in front of a mirror putting on lipstick."
Both were born into wealthy families in Jiangxi province, and Rao said they fell in love at first sight.
Another picture shows Rao, too shy to say "I love you", singing the English lyrics-"Rose Marie, I love you"-from an old US song to express his feelings to Mao during a date in a park.
The memoir also tells of bitter experience.
When Mao looked after the children alone in Shanghai, her work involved carrying 15-kilogram bags of cement for the construction of the Shanghai Natural History Museum.
"Every time I walk past the museum, I pause and look. I don't know which steps were made from the cement she carried. I wonder if her disease may have been caused by that experience," Rao said, who added that in 1992, Mao was diagnosed with diabetes and uremia. He stopped working to care for her.
The last picture shows the family's final visit to the hospital on March 19, 2008.
"I saw a tear in the corner of her right eye. In the afternoon, she left me for good," Rao wrote in the caption under the picture.
He kept a handful of her hair tied with a red string, which he took to France, along with their wedding rings, for the book tour in January.
"Death parted my wife and I, but by drawing our story, she will be with me forever," Rao said.