Grandma pursues her dream to fly
By HAN JUNHONG/CHEN MENGWEI | China Daily | Updated: 2017-05-15 08:59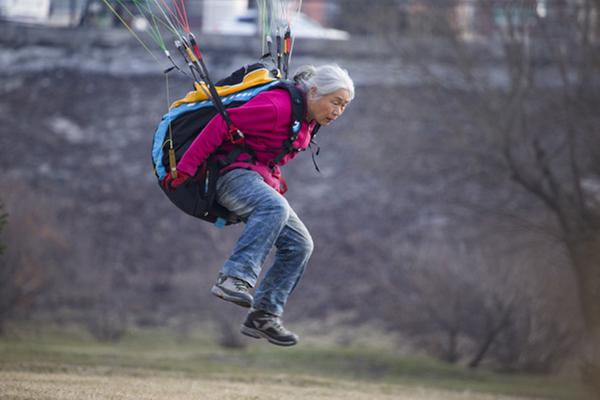 Li Jiaxin practices powered paragliding on a meadow on the bank of the Songhua River in Jilin, Jilin province. [Photo by ZHU WANCHANG/CHINA DAILY]

A 69-year-old widow who likes to push her limits spent life savings on powered paragliding
Gliding through the air, a gray-haired 69-year-old keeps her head up, eyes closely tracking every movement of the giant kite-like inflated wing that she is suspended beneath as she floats effortlessly across the landscape.
Li Jiaxin, 69, is a powered paragliding enthusiast.
Different from a traditional hang glider, which relies on the wind to take off and maintain altitude, a powered paraglider can be launched by the pilot on level ground without being assisted by wind.
This is made possible by a giant fan-like motor, known as the paramotor, which is worn on the pilot's back and generates thrust.
Any extreme sport can be dangerous-skydiving, tightrope walking and bungee jumping, among others-which is why such activities are usually dominated by young people. But Li, who started powered paragliding in 2008, sees it as the perfect sport for her.
"There are 1,000 reasons not to do something you don't like, but there is only one reason you do something you like. I only do what I like. I like doing what challenges and stimulates me-things that are deemed impossible by others," Li said.
One spring nearly a decade ago, Li was walking by a river when she saw a man playing with a powered paraglider.
It was the first time she had seen the ultralight aviation apparatus, and she immediately fell for it, begging the man to teach her how to use it.
However, a new powered paraglider would cost Li 50,000 yuan ($7,240) and an additional 4,000 yuan for lessons, which she could not afford, as her husband had passed away and she was living on a monthly pension of 1,200 yuan.
But she was determined to take up the sport, so when she found a secondhand glider for half the price, she didn't think twice.
"I took out all my savings to pursue my dream to fly," she said.
Li's daughter, who is 36 and married, could not understand her mother's choice at the time. She still strongly objects to Li's obsession with flying, but nothing seems to be able to stop her.
Although her pension recently went up to about 3,000 yuan a month, it is barely enough to cover her flying expenses and daily expenditures, so she has never bought insurance. That is why she takes extra care on every flight and does not fly when it is too windy.
She once crashed into dense woodland due to unfavorable weather conditions on a snowy day, and was lucky enough to escape with just a few scratches.
"After that, I decided to fly only when weather conditions are safe enough for me to do so," Li said.
Zhong Hua, 45, who works at a power plant in Jilin, Jilin province, has been flying with Li for nearly eight years.
Zhong and Li first met when they were in the same powered paragliding class.
Zhong said Li is the eldest glider he knows in China, adding that people refer to her as the "Flying Grandma".
"In our circle, people respect her. She likes swimming in the winter and cycling. She has many hobbies and she is almost 70. We young men should learn from her," Zhong said.
Asked how many more years she plans to glide, Li replied, "I'll fly until I'm physically unable to do so."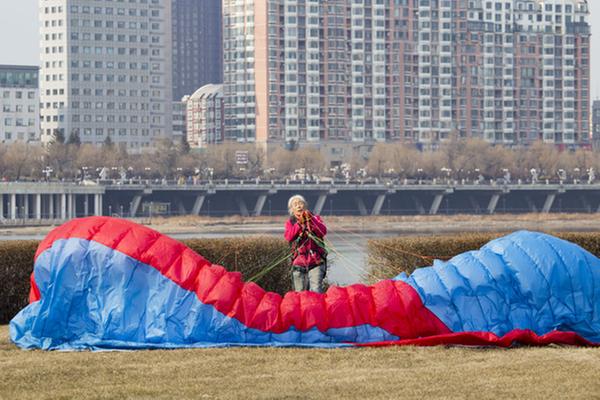 Li gathers up her parachute after a flight. [Photo by ZHU WANCHANG/CHINA DAILY]