Two men held for chopping off hand
By Zheng Caixiong in Guangzhou | China Daily | Updated: 2017-05-18 07:32
Police in Guangzhou have detained two men suspected of chopping off the hand of a 7-year-old boy on Wednesday.
According to statements released by the city's public security bureau on Sina Weibo, police detained the prime suspect, surnamed Ma, in Huangpu district at about 1 pm. Later, they detained another suspect surnamed Wu, in Haizhu district.
Both Ma, 41, and Wu, 38, are from Hubei province, the authorities said.
Initial investigations indicate the pair are suspected of attacking the boy because of a dispute with the victim's family over a debt, an unnamed police officer in Guangzhou, the provincial capital, told local media.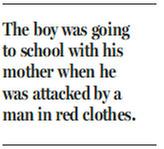 "No details are available at the moment as the investigation is ongoing," the officer was quoted as saying.
The boy was attacked on Qiaonanxin Street at about 7:30 am when he was going to school.
Police arrived at the scene after receiving reports from residents and sent police dogs to help look for the boy's severed hand.
The boy was sent to nearby Guangdong No 2 General Hospital for emergency treatment.
The boy's hand was found at about 1:30 pm and surgeons tried to reattach the boy's hand. A doctor from the hospital declined to comment on the surgery when contacted by China Daily.
The busy street was temporarily at a standstill when police closed the scene for investigation on Wednesday morning.
A manager of a dessert restaurant nearby said she went out to see what was going on after hearing a commotion at about 8 am.
"The boy was going to school with his mother when he was attacked by a man in red clothes," she told local media.
The mother then held her son in her arms and shouted for help, she said.
Another witness said the man began to chop at the boy after he pushed him to the ground and took his school bag.
"The man then ran away with the boy's hand into a small lane," he said.
A task force has been set up to investigate the case, police said.