Poverty a thing of the past
By Wang Xiaodong in Kangxian, Gansu | China Daily | Updated: 2017-05-18 07:32
Village sees number of households below poverty line decrease rapidly
Huaqiao, in Gansu province's mountainous Kangxian county, used to be a poverty-stricken village, with 126 of its 215 households living below the poverty line.
"Back then there were no concrete roads in the village, and the paths became a mixture of mud and animal feces whenever it rained," said Yang Guide, who runs a grocery store in Huaqiao.
To improve villagers' living conditions and help pull them out of poverty, local governments stepped up efforts to improve infrastructure in 2012, aiming to transform the area into a tourism destination.
The measures included building cement roads, dredging the river, renovating houses and building garbage disposal facilities, according to Shi Wanlong, deputy Party chief of Changba township, which governs Huaqiao.
With a pollution-free environment and well-preserved local culture, the village - now a 4A-level scenic site, as certified by Gansu - had attracted more than 50,000 visitors this year by early May, generating 9 million yuan ($1.3 million) in revenue, Shi said.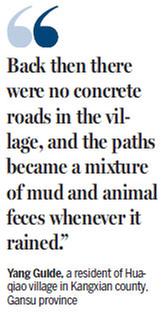 Last year, per capita income of villagers in Huaqiao reached more than 8,000 yuan, compared with about 3,000 yuan before the village became a tourist attraction, while the number of households living below the poverty line fell to 41, he added.
Huaqiao is a model example of the achievements made from the Chinese government's efforts to alleviate poverty in recent years.
Between 2013 and last year, more than 55 million people - roughly the population of South Africa - were lifted out of poverty in China, according to the State Council Leading Group Office of Poverty Alleviation and Development.
The central government allocated 66.7 billion yuan for poverty alleviation last year, an increase of more than 43 percent compared with 2015, resulting in 12.4 million people being lifted out of poverty, the office said.
In addition, all of China's 128,000 poverty-stricken villages had officials appointed specifically to lead poverty alleviation efforts last year, it added.
China's top leadership pledged in November 2015 that all those living in poverty - more than 70 million by the end of 2014 - would be lifted out of poverty by 2020.
Governments at various levels would help about 50 million people through means such as industrial development, relocation, education and medical care relief, while all others - most of them having lost all or partial ability to undertake manual labor - will be covered by government subsidies, the central government said.
In a meeting in February, President Xi Jinping called for greater efforts, including more precise measures, to ensure that poverty is eradicated in China by 2020, adding that the country would face tougher challenges the closer it comes to achieving the goal.
He Hengjun, a township official in Kangxian county, who has been assigned to lead poverty alleviation efforts in the county's Zhongjie village by developing the production of local traditional Chinese medicine, said the number of households living below the poverty line - annual per capita income of 3,000 yuan - in the village fell by more than 70 last year.
It is expected that the remaining six households will be removed from poverty by the end of the year, he said.
A major challenge for poverty alleviation in Zhongjie is medical bills for the treatment of serious diseases, which can drag families back into poverty, He added.
wangxiaodong@chinadaily.com.cn