A license to better parent
By Liu Jing | chinadaily.com.cn | Updated: 2017-05-18 13:45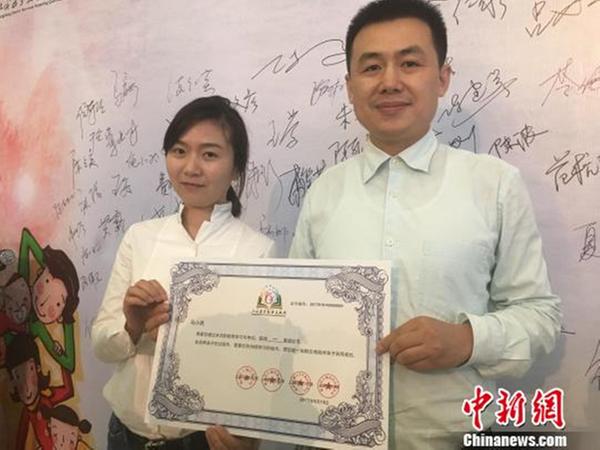 Parents receive licenses during a ceremony on May 17, 2017 in Hangzhou, Zhejiang province. [Photo/Chinanews.com]
"When I asked my daughter to drink water in the past, I often did so in a commanding manner. But now, I would say 'daddy is tired too. Why don't we drink some water together?'" Ma Xiaomin says. "It's more effective to communicate with kids in this way."
The father of a 3-year-old girl in Hangzhou, Zhejiang province is among the first to graduate from a program launched by the city's Shangcheng district to encourage better parenting.
He and the other nine graduates received a "star parenting license" on Wednesday.
According to Chinanews.com, the first graduates were all born in the 1970s or 1980s. The project, targeting parents of children under 15, establishes a life-long online learning platform for parents to get advice and exchange ideas with each other.
At present, the platform offers more than 180 video courses by renowned experts, usually no longer than 10 minutes.
"Now we have a lot of fragmented time and the short videos are very convenient," Ma Xiaomin said. As a father, he used to feel upset all the time for not knowing how to communicate with his child. Through this platform, he has learnt more about children and spent more quality time with his daughter.
By following the platform's WeChat account, participants can choose courses according to the age of their children and get credits when they finish. After gaining 100 credits, they will receive a one-star license and their rating rises with credits. The top level parents will be rated as five-star parents.
Besides online courses, there are also offline activities.
A survey of parents before they start the program reveals misleading notions in child-rearing and deficiency in education among many parents in the city. For example, nearly 70 percent of the subjects believe scientific knowledge is the most important part of a child's education and only 15 percent give priority to moral training.
"The culture of a household is the root of civilization inheritance in a society and the education of parents is the root for social stability," Kang Zhiyou, deputy director of the civilization office of the Hangzhou government, said. "The project helps to improve the qualities of parents, build a harmonious parent-child relationship and establish good family traditions," he said.
The license is issued jointly by the district authorities of education, civil affairs, family planning and women's federation.
In the future, the project will be expended to other regions to benefit more people and promote a life-long education system, district education director Xiang Haigang said.