It's May, but Beijing feeling summer heat
By Zheng Jinran | China Daily | Updated: 2017-05-18 07:32
By one measure, season has changed; conditions could affect wheat crop
Beijing sweltered in summerlike heat on Wednesday, with temperatures expected to remain high until Friday night.
Residents in cities from at least eight northern provinces are also experiencing their first heat wave of the year, the national weather authority said on Wednesday.
"They're the first really high temperatures to hit northern China this year," said Fang Chong, chief forecaster at the National Meteorological Center. "The high temperatures will continue to rise and peak on Thursday."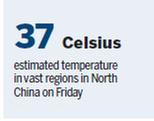 Temperatures from Wednesday to Friday will climb as high as 40 C in parts of the Inner Mongolia autonomous region and reach 37 C in the vast regions in North China on Friday, she said.
The center issued its first heat alert - a yellow warning, the third-highest - on Wednesday afternoon and advised residents to take precautions against heat stroke and fires, especially around midday.
"It felt like I was walking in an oven in the strong sunshine. I had to wear sunscreen and use an umbrella, and I tried my best to stay indoors," said Wang Jing, who was working in Beijing on Wednesday.
High-temperature days - referring to those that climb above 35 C - have arrived 20 days earlier than usual in Beijing, the center's data showed.
Temperatures in the capital were higher than the average for the same period in recent years, but they're short of the record - 38.1 C on May 19, 2010.
Though May is only half over, Beijing has entered summer, as determined by consecutive warm days. Tianjin, along with Shijiazhuang, Hebei province, and Zhengzhou, Henan province, were already into the summer, as they are ahead of the average of the past years, the national weather center said.
"These regions, from Inner Mongolia to northern areas like Hebei and Henan, have been hit by high temperatures because of the west-to-east movement of a continental warm air mass, which brings sunny days with little rainfall," said He Lifu, another chief forecaster of the national weather authority.
He added that it's not rare to see such dry and hot weather in northern China, as it happens every three to five years.
Along with the discomfort caused by the heat, the ongoing dry and hot weather is bad for wheat growth. Seed weight will be reduced, which will affect the yield in some parts of Hebei and Henan provinces, the National Meteorological Center said.