Chinese testing service offers US exam prep
By Paul Welitzkin in New York | China Daily | Updated: 2017-05-18 07:32
The organization behind the ACT college entrance examination has teamed up with a large Chinese test preparation provider to offer a program for Chinese students who will take the test required by many US colleges and universities.
Ed Colby, a spokesman for the ACT, said the program with ATA Online (Beijing) Education Technology is individually tailored to help students understand their academic strengths and weaknesses and how they can improve.
Students begin by answering individual practice questions in each of the four subjects in an ACT exam - math, science, reading and English - and recommends areas of focus for preparation.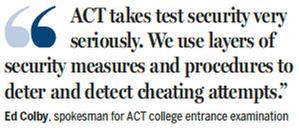 The goal is to help Chinese students identify gaps in their knowledge via diagnostic online assessments.
"ATA will also offer a full mock ACT experience in which the student literally practices taking the exam in an assessment center under the same conditions as the ACT-proctored, timed, 3 to 4 hours in duration," Colby wrote in an email on Tuesday.
Cheating on exams like the ACT or its rival SAT has been reported in Asia and in other countries. Students feel pressure to do well on the tests, which are important components of their applications to US colleges and universities.
Last year, SAT exams were canceled at 45 testing sites across the Chinese mainland and Macao because test takers received test materials in advance. In 2015, prosecutors in Pittsburgh and Philadelphia charged 15 Chinese people, alleging they conspired to have impostors take the SAT and other college entrance exams for other students in exchange for payment of up to $6,000.Most of the defendants pleaded guilty and were deported from the US.
The ACT was also canceled in South Korea and Hong Kong last year because of widespread security breaches.
Colby said the ACT does not release information about test security incidents.
"ACT takes test security very seriously. We use layers of security measures and procedures to deter and detect cheating attempts. Our test security measures are constantly evolving in response to emerging threats," he said.
Some US colleges have dropped the ACT/SAT requirement for international students. Bob Schaeffer is the public education director of the nonprofit Fair Test, under the National Center for Fair and Open Testing, in Jamaica Plain, Massachusetts. He said US admissions offices that do not require ACT/SAT scores from international applicants rely on a mix of other data that varies from school to school.
It can include "scores from the TOEFL and other English language competency exams, transcript reviews by independent verification services and interviews conducted either on site or using technologies such as Skype", Schaeffer said in an email.
paulwelitzkin@chinadailyusa.com
(China Daily 05/18/2017 page5)