Boy gets soccer ball-and then some
By Mao Weihua in Urumqi and Cui Jia in Beijing | China Daily | Updated: 2017-05-19 06:41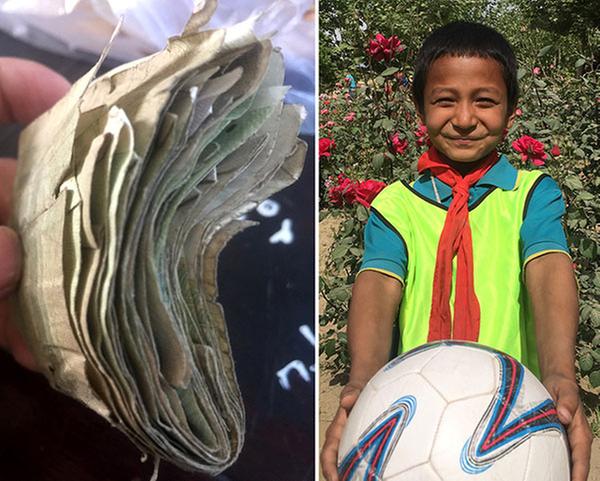 An 8-year-old village boy who had been saving up for a soccer ball since winter in the Xinjiang Uygur autonomous region not only got what he wished for but a lot more. Training gear for his classmates came as an unexpected bonus.[Photo provided to China Daily]
Online post softens hearts; donors give equipment to Xinjiang school
An 8-year-old village boy who had been saving up for a soccer ball since winter in the Xinjiang Uygur autonomous region not only got what he wished for but a lot more. Training gear for his classmates came as an unexpected bonus.
It all started when Abudulnabijan Kahar, a soccer coach at a primary school in Taremubage village, Kashgar prefecture, received a visit from Abudulhalik Amudula, a shy second-grader, on May 12.
The boy's family can afford to buy him a soccer ball-with an income that's a about average for the area. But he wanted to earn the money himself and handed the coach a stack of wrinkled 1 yuan notes-39 ($5.6) of them-and asked the coach to buy a new soccer ball.
"I didn't expect that at all, and I was extremely moved by the boy's passion for soccer. So I posted what happened on social media," Abudulnabijan, 26, said on Thursday.
He said the boy once asked him how much it cost to buy a new ball. Not taking it seriously at the time, he told him it was 30 or 40 yuan and promised to help the boy buy one if he had enough money.
The coach gave his own new ball to the boy and invited him to become the 32nd member of the school's soccer team.
"He won't go anywhere without the soccer ball, and asks me to teach him to play every day," Abudulnabijan said.
The team still plays on uneven dirt fields and practices with durable balls made of thick rubber that don't need to be inflated regularly.
"Those are not standard balls, but they are durable, which is very important for village school soccer teams," the coach said. "It is also why Abudulhalik wants a proper soccer ball so much."
Abudulhalik said: "I just want to join the soccer team, instead of standing there watching them train. I need a ball to practice to be good enough for the team. The money is my pocket money I've been saving up since the winter break."
Abudulhalik's love for soccer touched the hearts of many after pictures of him and the stack of wrinkled notes were posted on social media. People donated soccer balls, jerseys and boots.
"We expect to receive more than 1,000 balls sent by people around China. We will distribute them to other village schools," Abudulnabijan said.
In 2015, the school became one of the first government-backed schools in the region to promote soccer. Its team now trains every Tuesday for an hour and has opportunities to play in a local primary school league. The school will gradually receive more funding to improve soccer facilities and buy gear, Abudulnabijan said.
"The children love playing soccer so much that they don't even want to leave the pitch when training is over," the coach said.