Blackstone bets on annuities with $1.84 billion deal for FGL
<P>BLOOMBERG</P> | Updated: 2017-05-26 08:19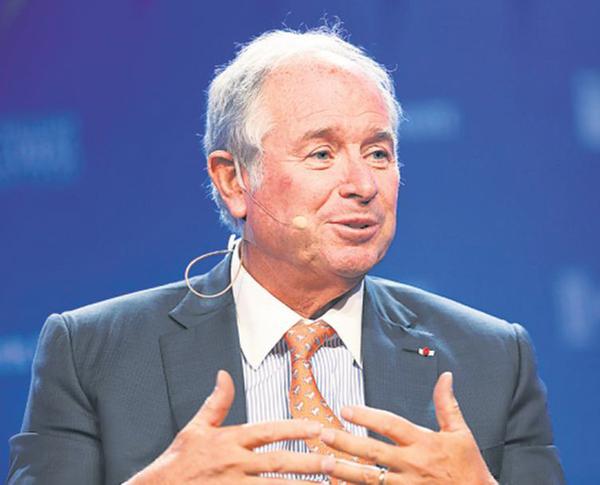 Stephen Schwarzman, co-founder and chief executive officer of Blackstone Group LP BLOOMBERG
Blackstone Group LP, the world's biggest private equity firm, is pushing into annuities to expand its investment-management operation.
Funds affiliated with Blackstone, led by Stephen Schwarzman, are part of an investor group that agreed to pay $1.84 billion to buy Des Moines, Iowa-based Fidelity & Guaranty Life, the companies said in a statement on Wednesday.
Wall Street firms have increasingly been pushing into annuities, in which customers deposit cash in exchange for the promise of a guaranteed stream of income. Athene Holding Ltd, which has ties to Blackstone's rival Apollo Global Management LLC, had an initial public offering last year. Apollo helps manage assets for Athene, and Schwarzman's firm will do the same for FGL, which has a portfolio of more than $20 billion.
"This agreement will provide access to Blackstone's superior investment management," the companies said in the statement.
The investors will pay $31.10 a share in cash and assume about $405 million of existing debt, according to the statement. That compares with the $26.80 that Anbang Insurance Group Co planned to pay under a 2015 agreement that was canceled in April. The Chinese company failed to meet deadlines to complete the transaction, which permitted FGL to seek a new buyer.
Also in the investor group is CF Corp, a Las Vegas-based special purpose acquisition company that went public last year, and counts former top Blackstone dealmaker Chinh Chu as a key executive. His co-chairman is William Foley, who is known for his role at Fidelity National Financial Inc, which is a provider of title insurance and has invested in restaurants.
Buyers will invest about $900 million in common and preferred equity to fund the deal, which is expected to be completed in the fourth quarter, according to the statement. The funding includes cash from CF's IPO.
The acquisition "will enable us to generate attractive returns for our shareholders by accelerating FGL's growth and profitability through efficient structuring and improved investment-management capabilities", Foley said in the statement.
While the US market for fixed annuities has long been dominated by giant insurers like Allianz SE, American International Group Inc and policyholder-owned New York Life Insurance Co, upstarts have been gaining market share. Athene ranked fifth last year, according to data from industry group Limra.
No 6 Global Atlantic Financial Group, backed by Goldman Sachs Group Inc, is weighing an initial public offering as soon as this year, people familiar with the matter said last week. FGL is ranked No 16.
'Liquidity risk'
The Wall Street firms have pushed beyond highly rated, easy-to-trade debt and other traditional insurance investments. Athene has invested in credit funds and lending operations and the company's chief executive officer, Jim Belardi, said this month that the investment strategy is to "underwrite complexity, structure and liquidity risk".
FGL is majority-owned by HRG Group Inc, which is seeking to focus on operations such as its holding of Spectrum Brands Holdings Inc, the seller George Foreman appliances and Rayovac batteries.
FGL will remain under the leadership of its management team including CEO Chris Littlefield, according to the statement. Littlefield led Aviva USA from 2009 to 2013, when the business was sold to Athene. Ares Management LP and Athene were among other companies that previously showed interest in buying FGL, according to people familiar with the matter.
The victory by the Blackstone group "will likely be viewed as a modest negative for Athene, as there were some investor hopes that they would be the winning bidder for this transaction, deploying a considerable amount of excess capital", Tom Gallagher, an analyst at Evercore Partners Inc, said in a note to investors. "The positive, however, is that Athene didn't stretch on price to do a deal that it didn't really need."
Shares of Athene and Ares were little changed. Bank of America Corp, FT Partners, Citigroup Inc and Lazard Ltd advised members of the buyer group. The law firms were Winston & Strawn LLP, Hogan Lovells US LLP, Debevoise & Plimpton LLP and Sullivan & Cromwell LLP.
The seller's banks are Credit Suisse Group AG, Jefferies Group and Rothschild & Co. The legal adviser is Skadden Arps Slate Meagher & Flom LLP. Leucadia National Corp, the owner of Jefferies, is the the top shareholder in HRG.
BLOOMBERG