Craft and life
By Xu Fan | China Daily | Updated: 2017-05-30 07:52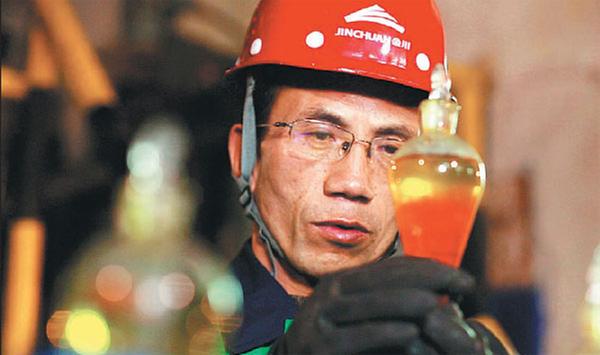 Pan Congming is an expert in precious metals. His story is featured in a TV program called Masters of Their Craft. [Photo provided to China Daily]
TV program honors the tireless efforts of Chinese in different fields, Xu Fan reports.
Few Chinese from the younger generations know the story behind the 1 yuan coin.
In 1985, Yu Min, a designer at the Shanghai branch of China Banknote Printing and Minting Corp, beat a dozen aspirants to engrave the coin.
Then 26 years old, he had spent a few years on polishing the coin's plaster mold. In 1992, the coin, with the pattern of a peony flower, was officially circulated but overtaken by a version featuring a chrysanthemum in the 2000s.
In his long career, Yu has designed and engraved more than 100 types of coins and souvenirs such as those for Chairman Mao's 100th birth anniversary, others resembling medals of the 2008 Beijing Olympics and few more with Panda designs on them.
He became the first Chinese to win the lifetime achievement award in coin design from the World Coin News magazine and World Money Fair, a global numismatic and precious metals convention.
His decadeslong devotion to China's coin-engraving industry was recently reported in the fifth season of the Masters of Their Craft program aired on CCTV-1 and CCTV-13. He was featured in one episode.
The other four episodes featured the metal-refining worker Pan Congming, bianzhong (chime bells) tuner Liu Younian, milling technician Han Liping and engineer Qiao Sukai.
"Some of their jobs might be less known to the public. But they are all masters in their fields and should be known to more people," says Yue Qun, the program's producer.