Offshore yuan term deposit rate tipped to soar in Hong Kong
By Oswald Chan in Hong Kong | China Daily | Updated: 2017-06-03 06:53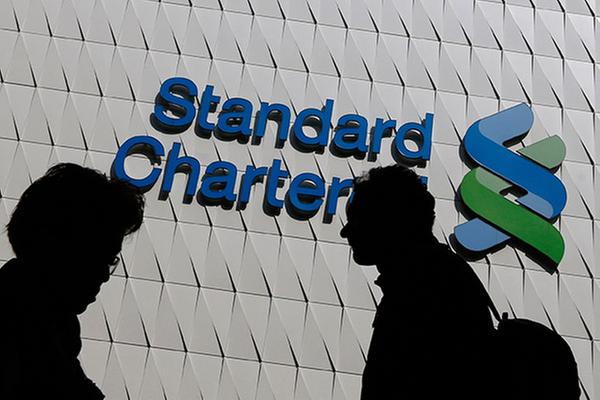 Passersby walk in front of the main branch of Standard Chartered in Hong Kong. The bank is one of the lenders in the city that hiked the renminbi term deposit interest rates on Thursday. [Photo/Agencies]
Financial analysts attribute prediction to high borrowing costs of renminbi
Although the cost of borrowing renminbi overnight in Hong Kong retreated sharply from the recent high level on Friday, treasury market analysts predicted that lingering tight borrowing costs of offshore yuan will push up interest rates of renminbi term deposits in the city.
The overnight offshore yuan Hong Kong Interbank Offered Rate dropped to 8.67 percent on Friday, down a sharp 34 percentage points from 42.81 percent recorded on Thursday, Treasury Markets Association data showed.
On Friday, one-week HIBOR dropped as well to 14.80 percent from 19.56 percent of Thursday, and one-month HIBOR fell to 9.64 percent from 10.57 percent.
Offshore yuan borrowing costs skyrocketed in the past couple of days, as banks in Hong Kong have tremendous demand to absorb the currency for transaction settlements by the end of this month.
With the offshore yuan borrowing costs soaring, major banks in Hong Kong raised the interest rates of term deposits in renminbi to attract more fresh capital, analysts said.
In addition, they can lend the excess renminbi to other banks to earn more interest income.
Wing Lung Bank, Standard Chartered Bank (Hong Kong), Bank of Communications-Hong Kong Branch, Bank of East Asia, Bank of China (Hong Kong) and OCBC Wing Hang Bank all hiked interest rates of their term deposits in renminbi on Thursday.
Among them, Wing Lung Bank increased the rate to 4.5 percent, the highest-ever level for one-to 24-month deposits of up to 100,000 yuan ($14,690).
Renminbi deposits in Hong Kong totaled 528 billion yuan in April, up 4.1 percent from 507.30 billion yuan in March, according to the Hong Kong Monetary Authority.
"We predict in the next couple of months the demand for yuan deposits will improve, as the strong rally in the yuan exchange rate at end-May will boost demand for yuan-denominated financial assets when market confidence is restored," said Ying Jian, senior economist at Bank of China (Hong Kong).
The onshore yuan exchange rate has registered the steepest gain in more than four months, prompting market analysts to change their predictions of the yuan exchange rate movement.
"The recent yuan appreciation can be seen as a delayed response to the dollar depreciation against other major currencies earlier in May," said Louis Kuijs, head of Asia economics at think-tank Oxford Economics.
"In addition, the People's Bank of China is probably preparing for the possible repercussions for foreign exchange markets of the likely US Federal Reserve's interest rate hike in June."
Swiss investment bank Pictet Group said in its investment note: "Following the recent significant appreciation of the renminbi against the dollar, we do not see too much decline in the dollar/yuan rate in the short term. We continue to believe PBOC's goal is to keep a stable renminbi on a trade-weighted basis."
The PBOC announced last week the introduction of a "counter-cyclical adjustment factor" to calculate the renminbi exchange rate price quotation, by increasing the weighting of macroeconomic fundamentals.