Xi: California welcome to boost China-US ties
By LI XIAOKUN | China Daily | Updated: 2017-06-07 04:36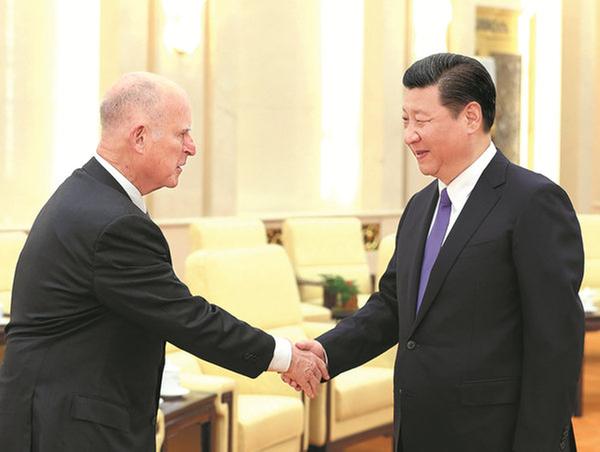 President Xi Jinping meets with California Governor Jerry Brown of the United States at the Great Hall of the People in Beijing on Tuesday. Xi encouraged the state to participate in the Belt and Road Initiative. WU ZHIYI / CHINA DAILY
Innovation, green development cited as key areas ripe for cooperation
President Xi Jinping spoke with California Governor Jerry Brown on Tuesday and encouraged the state, the most populous in the United States, to contribute more to China-US cooperation in key areas.
Brown is in Beijing to attend a Clean Energy Ministerial meeting, the first international meeting of its kind since US President Donald Trump pulled out of the Paris Agreement on climate change last week.
Xi said China is committed to the path of peaceful, open and green development.
He expects states of the US and Chinese provinces to strengthen the synergy of development strategies, produce more highlights in cooperation and make local exchanges and cooperation a new growth point in ties between the two nations.
The president encouraged California, a state that he said "bears great economic and social impact in the US", to make more contributions in promoting China-US cooperation in fields like technology, innovation and green development.
He also welcomed California to participate in the Belt and Road Initiative.
Brown told Xi his state cherishes its traditional friendship with China.
He said California's government speaks highly of and will actively participate in the construction of the Belt and Road Initiative.
The state also expects to deepen cooperation with China in fields including trade, investment, clean energy, low-carbon technology, environmental protection and civilian exchanges, he said.
Earlier on Tuesday, Brown, speaking at the eighth Clean Energy Ministerial meeting, said that the threat of climate change could be more dangerous than that of fascism during World War II.
The governor told the Associated Press on the sidelines of the forum that Trump's decision to pull the US out of the Paris climate accord will prove temporary because of the urgency of the issue.
China, Europe and US states will for now fill the gap that was left by the US federal government's move to abdicate leadership on the issue, he said.
China announced last week it will continue to implement the commitment of the Paris climate deal and "move toward the 2030 goal step-by-step, steadfastly".
Tao Wenzhao, a researcher in US studies at the Chinese Academy of Social Sciences, said, "China has always been serious on promises it made".
"Besides, cutting emissions has been an irreversible international trend, though there might be some temporary setbacks," Tao said.
The California government and the Ministry of Science and Technology inked an agreement on Tuesday for greater collaboration on countering climate change, according to AP.
Brown signed similar agreements in the past several days with leaders in Jiangsu and Sichuan provinces, the report said.
President Xi Jinping meets with California Governor Jerry Brown of the United States at the Great Hall of the People in Beijing on Tuesday. Xi encouraged the state to participate in the Belt and Road Initiative.