Splendor of Guizhou shown in pictures at UN
chinadaily.com.cn | Updated: 2017-06-07 09:38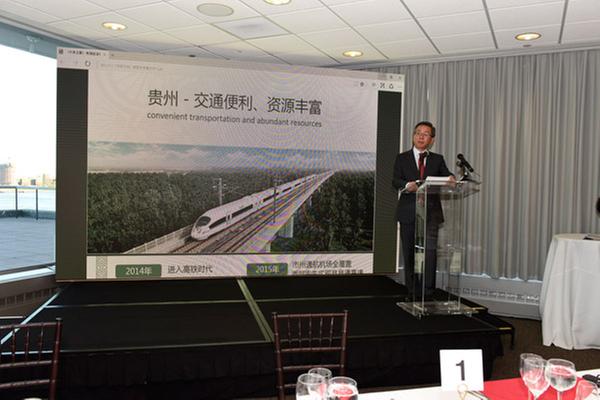 Lu Yongzheng, vice-governor of Guizhou, promotes tourism in Guizhou at a Guizhou photography exhibition at the UN in New York on June 2. Provided to China Daily
A photography exhibition displaying the splendid scenery and enchanting culture of Guizhou province was held recently at UN headquarters in New York.
The exhibition last Friday was titled Fascinating Guizhou: A Heaven of Myriad Mountains.
New York City Mayor Bill de Blasio, and US representatives Joseph Crowley and Grace Meng of New York sent welcoming letters to the event.
"This evening's celebration of Chinese culture is also a terrific opportunity to honor the diversity on which our global city rises as we forge a brighter, more inclusive future for all. On behalf of the city of New York, please accept my best wishes for a productive event and continued success," said de Blasio in his letter.
With its marvelous landscapes, rich ethnic customs and enchanting cultural and historical sites, Guizhou, which is in the southwestern part of China, is a place that has provided an insightful experience to many international tourists, said Lu Yongzheng, vice-governor of Guizhou.
The province has more than 50 ethnic groups, charming cultural stories and amazing mountain views to explore.
Guizhou, in turn, sends hundreds of thousands of visitors to the US.
In 2016, the United States became the second-largest tourism destination for Guizhou, with 546,000 visitors to the US, 32.2 percent more than the year before.
Robert Duglin, vice-president of the American Society of Travel Agents, discussed plans for an ASTA marketing summit to be held in November in Guizhou.
The summit will be the group's first international tourism industry event and will be particularly geared to the Chinese inbound tourism market.
With a focus on tourism trends, industry conferences and trade, the event will generate a "data + market + marketing" platform.
More than 150 people from different organizations attended the event.