Philosopher's books encourage children to ponder big ideas
chinadaily.com.cn | Updated: 2017-06-07 16:23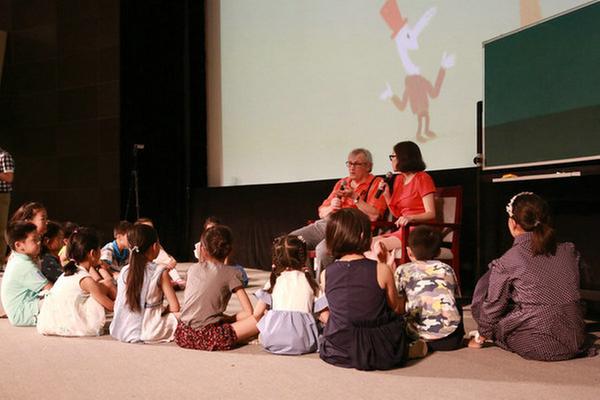 Oscar Brenifier talks to children in Beijing. [Photo provided to chinadaily.com.cn]
Children are born philosophers. This June, French philosopher Oscar Brenifier brings his best-selling philosophical picture book collection What's the big idea to Chinese children in Beijing, Shanghai, Hangzhou, Wuhan and Changsha.
The What's the big idea collection, winner of a French national award for best children's book, encourages children to ponder ideas and ask questions about life and the world. Through illuminating dialogue, thinking can be as fun as a child's play.
The collection explores nine fundamental concepts, including happiness, liberty, and society. Each of the nine books contains six major questions on a different theme.
"My books are for the whole family, not just for children. I hope the parents can read those books and ask those questions of themselves," Brenifier said.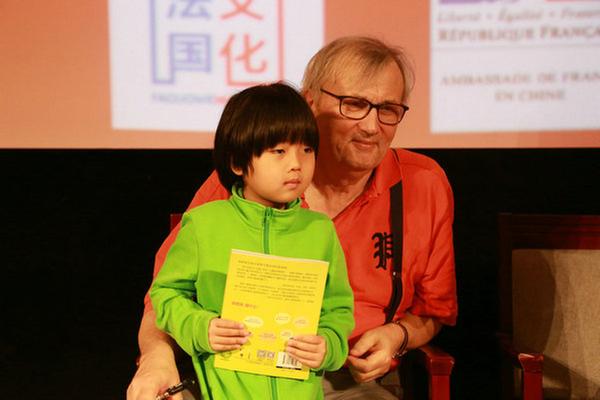 A boy poses for a photo with philosopher and author Oscar Brenifier. [Photo provided to chinadaily.com.cn]
Brenifier got his doctorate degreee in philosophy from the Paris-Sorbonne University. He has several identities: a practical philosopher, a trainer, a consultant and an author. For many years, he has been working on the concept of "philosophical practice" both on a practical and theoretical level.
Brenifier is the author of more than 50 philosophical and pedagogical works. With a readership ranging from teachers to children, he has published the collection The Apprentice-Philosopher and the book Questions of Logic for teenagers, the popular What's the big idea collection for children, as well as books for teachers.
After becoming a professor, he developed the concept of "philosophical practice". He has been involved in several projects to make philosophy more accessible to various audiences including children and adults in France and other countries.
To this end, Brenifier founded the Institute of Practical Philosophy with Isabelle Millon, a philosopher specialized in philosophical practices with children and adolescents. The goal of the institute is to promote philosophy in day-to-day life in the city and school. It organizes philosophical workshops in coffee shops, schools, theaters and even companies.
Brenifier wants to dispel people's misconceptions about philosophy. "Practical philosophy is very different from academic philosophy. It [academic philosophy] is for a specific group of people. But I help everybody to use philosophy every day," he said.
"I dedicate my life to promoting philosophical practice with everybody to show that philosophy is not for elites. It can be used in everybody's life," he said. "That's what I have been trying to do. The PhiloZenfants [What's the big idea] are for the families like these."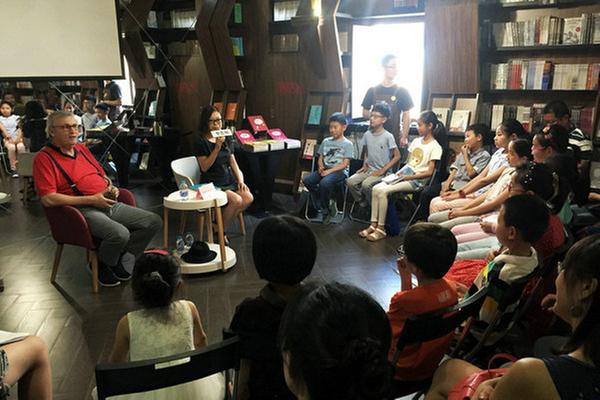 Oscar Brenifier talks to children in Shanghai. [Photo provided to chinadaily.com.cn]
Brenifier's work extends beyond the publication domain. He contributed as an expert in 2007 to the drafting of the UNESCO report on philosophy in the world. In 2006, he was one of the organizers of the International Symposium on New Philosophical Practices at the UNESCO headquarter in Paris. " I try to introduce philosophy into many different areas," he added. "I help companies to evaluate their staff. And I also do individual philosophical counseling."
He is actually one of the most famous representatives of philosophical consultation in France, a division of philosophy based on the exchange between a professional of the discipline and a person having existential questions. A philosophical consultation is designed to help clarify questions asked by an interlocutor, which is very different from psychological therapy because it does not employ any therapeutic approach. The consultant philosopher guides the thinking of the counselee, but never acts as a prescriber of philosophical doctrines.
Brenifier is very fond of the idea of thinking exercise. For him, the brain requires training and exercise just like the body. "The method I use in consultations is very structural," he said. "It's about clarifying the thinking, finding concepts, and looking for alternatives. It is like when you do philosophy dissertations, except it is not about the academic, it is about your life."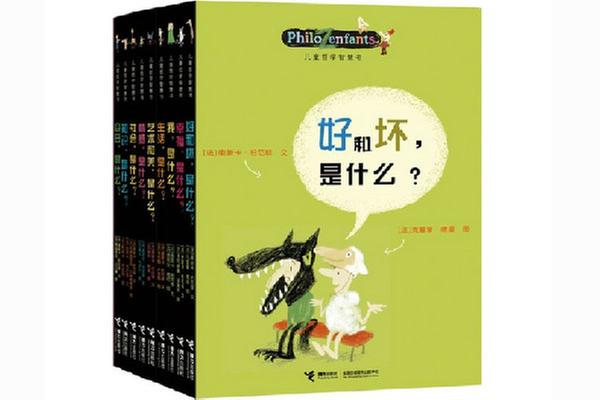 The What's the big idea collection by Oscar Brenifier. [Photo provided to chinadaily.com.cn]
He facetiously describes himself as an obsessive questioner. "As soon as I see someone in front of me, I want to understand how this person functions. I am fascinated by human beings," he said with a smile.
His tour in China includes parents-and-kids meet-ups, workshops, university lectures and book-signings.
"I have been working a lot on tales and how to philosophize with tales or proverbs. So in the future, I may do some books here in China for the whole family about tales and proverbs," he said.