Reforms, growth to drive up the yuan
By Wang Yanfei | China Daily | Updated: 2017-06-08 07:01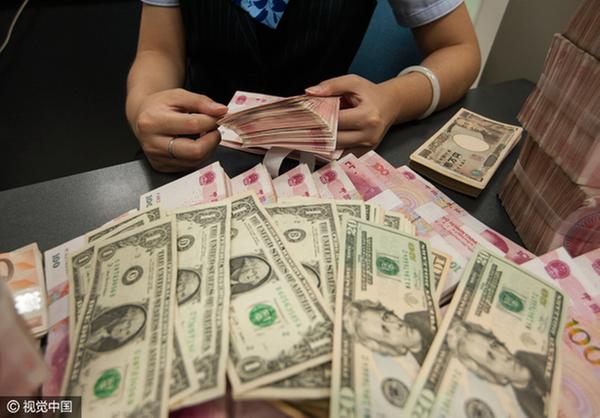 A clerk counts yuan and US dollar banknotes at a bank in Nantong, East China's Jiangsu province, Sep 21, 2016. [Photo/VCG]
Beijing's efforts to guide a stronger yuan have helped boost the currency, but only increased economic growth driven by sustained efforts to press ahead with reforms will be able to sustain this trend, according to analysts.
The People's Bank of China, the central bank, on Wednesday set the yuan mid-point at 6.7858 against the dollar, its strongest level since Nov 9.
The relative strong performance of the yuan against the dollar can be traced back to the beginning of May.
The yuan strengthened by 1.27 percent and 1.99 percent, respectively, in the offshore and onshore markets on May 10, ticking up from a likely depreciation trend.
The interest rate was only one element pushing up the yuan recently, especially in the offshore market, while the new factor added to the pricing model of the yuan by the central bank played a more significant role, Xie Yaxuan, chief economist with China Merchants Securities Co, wrote in a research note.
The central bank said on May 26 that it was considering introducing a "counter-cyclical factor" in setting the reference rate of the yuan against the dollar.
The new factor added to the pricing model since then became the third factor affecting the yuan, referring to the previous day's closing rate, in addition to other two, which reflected the demand and supply situation in the market, and the fluctuation of a basket of currencies, according to Xie.
The effect of the new factor can be also found in the latest data issued on Wednesday on foreign reserves in May, which stood above the $3 trillion level for the fourth consecutive month.
Looking ahead, the introduction of a new factor is not the ultimate solution, at the time when China is still on its way to implementing exchange rate reform, economists said.
"The new factor sets a foundation for stabilizing the fluctuation of the yuan in the future," said Han Huishi, a senior analyst at China Construction Bank.
Zhang Chao, a senior analyst with the China Development Bank, said there is no need to read too much into the short-term fluctuation of currencies, because economic fundamentals are the major factor determining the long-term trend.
Concern over the implementation of reforms was one of the reasons Moody's Investor Service's downgraded China's rating in May.
Zhang Chenghui, director-general of the Research Institute of Finance of the Development Research Center of the State Council, a government think tank, said Moody's downgrade does not reflect efforts that have been made.
She said she is confident that there will be further progress in the second half this year in State-owned enterprises reform.