Comey: Trump pressured him on probe over Russia
China Daily | Updated: 2017-06-09 07:30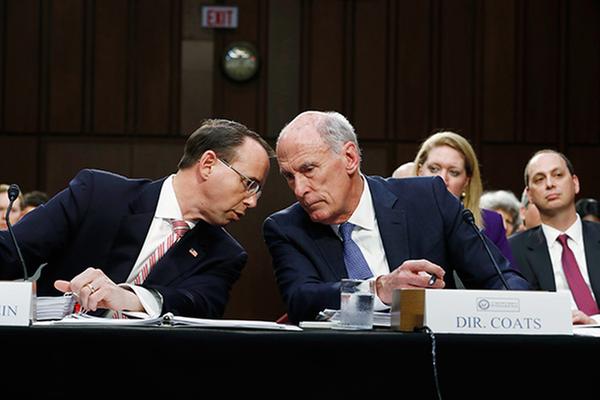 Deputy Attorney General Rod Rosenstein (left) and National Intelligence Director Dan Coats talk on Capitol Hill in Washington during a hearing.Carolyn Kaster / Associated Press
Legal experts: Testimony could strengthen impeachment case
WASHINGTON - Former FBI director James Comey said on Wednesday that US President Donald Trump asked him to drop an investigation of former national security adviser Michael Flynn as part of a probe into Russia's alleged meddling in the presidential election last year.
In written testimony released the day before he appears before the Senate Intelligence Committee, Comey said Trump told him at a meeting in the White House in February: "I hope you can see your way clear to letting this go, to letting Flynn go."
The testimony puts more pressure on Trump, a Republican, whose presidency has been overshadowed by allegations that Moscow helped him win the election. Trump and the Kremlin have separately denied any collusion.
Some legal experts said Comey's testimony could strengthen any impeachment case built on obstruction of justice, but US markets shrugged off the news from the testimony for lack of any major disclosures.
To build a criminal obstruction of justice case, federal law requires prosecutors to show that a person acted with "corrupt" intent. It does not matter whether the person succeeds in impeding an investigation.
While a sitting president is very unlikely to face criminal prosecution, obstruction of justice could form the basis for impeachment.
Comey said he had told Trump on three occasions he was not being investigated, confirming an earlier account from the president.
Trump, who spent part of Wednesday in Ohio talking about the need to fix the nation's crumbling infrastructure, ignored reporters' shouted questions about Comey. On returning to the Oval Office, Trump went into a meeting with top advisers, including chief of staff Reince Priebus.
Later, his outside counsel released a statement saying Trump felt "completely and totally vindicated" by Comey's account. "The president is pleased that Mr Comey has finally publicly confirmed his private reports that the president was not under investigation in any Russian probe," Marc Kasowitz, Trump's attorney, said in a statement.
Several congressional committees, as well as the FBI and a special counsel, are investigating whether Russia tried to tilt November's election in Trump's favor.
Trump abruptly fired Comey, who was leading the Federal Bureau of Investigation's probe, on May 9.
Comey painted a vivid picture for senators of awkward encounters with Trump in seven pages of testimony.
Comey described a private dinner in the Green Room of the White House on Jan 26, where Trump asked him whether he wanted to stay on as FBI director, telling him: "I need loyalty, I expect loyalty."
"I didn't move, speak, or change my facial expression in any way during the awkward silence that followed. We simply looked at each other in silence," Comey said in his testimony, explaining he became concerned that Trump was trying to create "some sort of patronage relationship".
Earlier on Wednesday, Trump announced that he planned to nominate Christopher Wray, a former Justice Department official, as Comey's successor.
Reuters - Ap