Overseas Chinese can help build Belt, Road
By AN BAIJIE | China Daily | Updated: 2017-06-13 05:24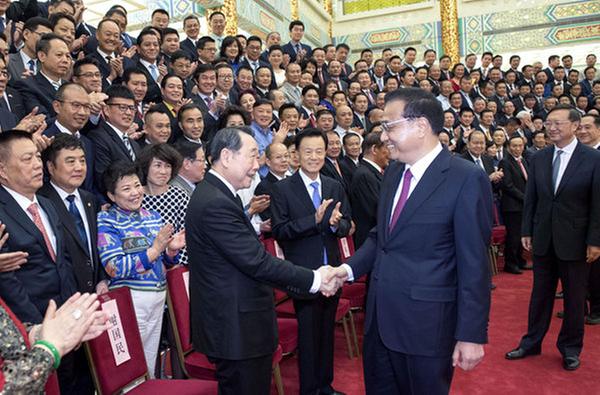 Premier Li Keqiang meets representatives of the second overseas Chinese business conference at the Great Hall of the People in Beijing on Monday. Li encouraged overseas Chinese to contribute by investing talent and resources. LI XUEREN / XINHUA
Li calls on 60 million in diaspora to lend talents and resources to effort
Premier Li Keqiang called on overseas Chinese on Monday to invest more in China and participate in building the Belt and Road.
Overseas Chinese businesspeople should make use of their advantages in capital, technology, management, business networks and human resources to participate in China's development, Li told representatives of the second overseas Chinese business conference at the Great Hall of the People in Beijing.
Li said that China's advantage as an attractive investment destination and huge goods market continues growing, and the economy is creating 13 million new urban jobs every year. He also pledged to push tax cuts for companies.
In his speech, Li vowed to push a new round of opening-up, lift more restrictions on access for foreign capital and create a more equal business environment.
Overseas Chinese can participate in building the Belt and Road by connecting China with the world, achieving mutual benefits and win-win results, he said.
China is confident of achieving this year's development goal and keeping economic growth at a medium-high rate while upgrading industries to a medium-high level, Li said. The Chinese economy keeps moving in a positive direction while maintaining stability, with growth that ranks among the highest in the world, he added.
There are approximately 60 million overseas Chinese — ethnic Chinese from the nation's diaspora — Li has said.
They have made many contributions in terms of investments of money and talent in China, and donations to the country.
He also urged overseas Chinese to abide by the laws of the countries where they live, shoulder social responsibilities, spread Chinese culture and serve as a bridge for exchanges between China and the world.
Li stressed that the mainland and Taiwan belong to one China. The overseas Chinese should do more to safeguard the one-China principle and promote recognition of the 1992 Consensus, he said, while calling on the people to contribute to the peaceful reunification of the nation. The 1992 Consensus embodies the one-China principle.
In his speech, the premier spoke highly of the efforts overseas Chinese have made in promoting friendship with foreign countries and contributing to China's reform and opening-up.
Qiu Yuanping, director of the Overseas Chinese Affairs Office of the State Council, said at the opening ceremony that the conference was held to support overseas Chinese in formulating a cooperation network, participating in building the Belt and Road, and strengthening China's friendly exchanges with the world.
More than 600 representatives of overseas Chinese from 105 countries and regions attended the conference at the invitation of the Overseas Chinese Affairs Office.
anbaijie@chinadaily.com.cn