Chinese researchers tour Iowa farm
By Zhao Huanxin in Desmoines, Iowa | China Daily | Updated: 2017-06-13 07:15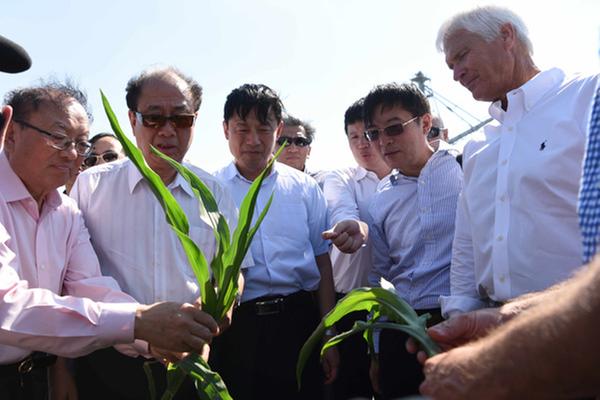 The dean of Renmin University of China's School of Journalism, Zhao Qizheng (second from left), and Guo Weimin (center), vice-minister of China's State Council Information Office, talk with farm owner Rick Kimberley. Representatives of Chinese leading think tanks visited the Kimberley Farms in Iowa on Sunday. [Photo//China News Service]
The United States' best-known farm in China, Kimberley Farms in Iowa, received a group of leading think tank researchers from Beijing for the first time on Sunday, after becoming an attraction for Chinese visitors since President Xi Jinping's visit five years ago.
Nearly 20 members of top Chinese think tanks, including the Chinese Academy of Social Sciences and China Center for International Economic Exchanges, retraced the roads that Xi traveled in 2012 as a visiting vice-president.
They ended the tour with a field trip to patches of the 1618-hectare corn and soybean farm operated by Rick Kimberley in Maxwell, Iowa, about 60 kilometers northeast of the state capital Des Moines.
The strong wind and scorching sun on the weekend seemed not to dent their enthusiasm for learning more about agricultural trade between the two countries and how farming is done in a safe and sustainable way in one of the top food exporters to China.
In what Rick Kimberley described as "forthcoming and open dialogue" on the farm, the Chinese delegates asked, "How many workers are engaged in farming such a big farm? What do you think about genetically modified organisms? How can the agricultural sector retain young talent?"
They also asked the president of Kimberley Farms and his fellow farmers what worries they had in trade with China.
Kimberley said only three or four people work the 1,618 hectares, and these people are now helping China's Hebei province to develop a demonstration farm project of 1,214 hectares that will also use new technologies being used in Iowa. An agreement on developing the project was signed at the end of May.
Iowa, a major agricultural state in the US Midwest, was the second-largest soybean producing US state last year, and it exports 60 percent of its soybeans, mainly to China.
When Xi visited the Kimberley farm in February 2012, the Chinese leader said he wanted to use the Iowa farmstead as a model for China's agriculture, Kimberley said.
"We've taken this to heart, and I've been to China eight times, visiting 30 cities in 10 provinces, to talk with agricultural officials and try to explain how we farm here and talk about bringing more technologies to China," he said.
The visitors got a closer look at how the corn stalks braved the strong wind and waves of heat on Sunday. They also learned from Grant Kimberley, a manager at the Iowa Soybean Association and son of the Kimberleys, how he sets the temperature control and calibrates the moisture of the corn and soybeans in the gigantic grain storages in Iowa through a mobile phone, even when he is traveling in China.
Zhao Qizheng, dean of the school of journalism at Renmin University of China and a former national political adviser, asked the younger Kimberley if the US farms grow genetically modified crops.
Grant Kimberley said around 90 percent of the corn and soybeans produced in the US farms is genetically modified, as is the percentage on his farm.
He said farmers grow what the market provides economic incentives for.
"The non-GMOs target specific markets; they are just more costly," he said.
As Iowa is a top egg, poultry and beef producer, Wei Jianguo, deputy head of China Center for International Economic Exchanges, proposed veterinarian training could be another area for cooperation between the state and China.