Hong Kong auteurs ready to roll on coproductions
By Honey Tsang | China Daily | Updated: 2017-06-16 07:57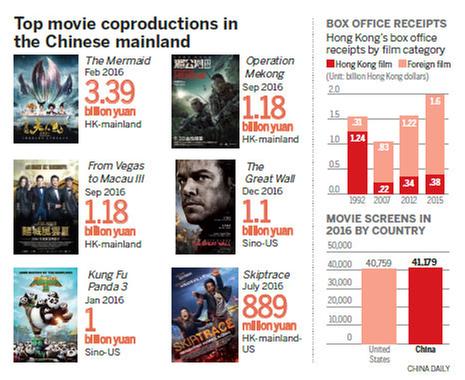 The SARS epidemic and the economic downturn became a double whammy for the city's movie industry, dragging it further into a downward spiral, Tam said.
According to research conducted by Chung Po-yin, professor at the department of history at HKBU, the overseas box office for Hong Kong movies dropped by more than 80 percent from a pinnacle of HK$1,860 million in 1992 to just HK$300 million in 2014.
The Hong Kong-mainland coproduction mechanism has picked up steam since the Mainland and Hong Kong Closer Economic Partnership Arrangement in 2003 - an agreement which grants Hong Kong filmmakers quota-free access to the mainland market.
At the time, the partnership was a boon that invigorated the waning industry. Subsequently, it has allowed industry players to tap highly profitable box-office revenue in the mainland.
Currently, the mainland movie market is 27 times bigger than Hong Kong's, and also the fastest growing in the world. From 2012 to last year, the mainland's total box-office receipts went through the roof, boasting a rise of 168 percent. By comparison, box-office revenue in the US expanded modestly, with a rise of just 5 percent.
Amy Liu, partner at EntGroup, a mainland researcher, described the growth in the mainland cinema business as "meteoric".
On top of that, the Chinese mainland had 41,179 movie screens last year - a 30-percent increase from 31,627 in 2015. It overtook the US, the previous multiplex king, with 40,759 screens. Liu said this made the Chinese mainland the world's leading cinema-going territory.
Cross-border benefits
Throughout the changes, Hong Kong filmmakers have turned to the mainland for finance. This collaboration has resulted in some "indie" movies, such as Pang's Love in a Puff series, becoming famous overseas. In return, the mainland has acquired the know-how of Hong Kong filmmaking talent.
Ann An, founder and chairman of Desen International Media, a renowned producer and distributor in the Chinese mainland, said the mainland's movie industry has always looked for creative talents from Hong Kong and overseas.
"The Chinese mainland movie industry has only been commercialized for 10 years. In terms of filming techniques, it still hasn't yet become full-blown, particularly when compared with Hollywood which has a history of more than 100 years," An added.
Coproduction offers a platform for movie makers to learn and exchange skills and ideas. And comedy is not Hong Kong's only strong suit.