China's top legislature schedules bi-monthly session
Xinhua | Updated: 2017-06-16 09:51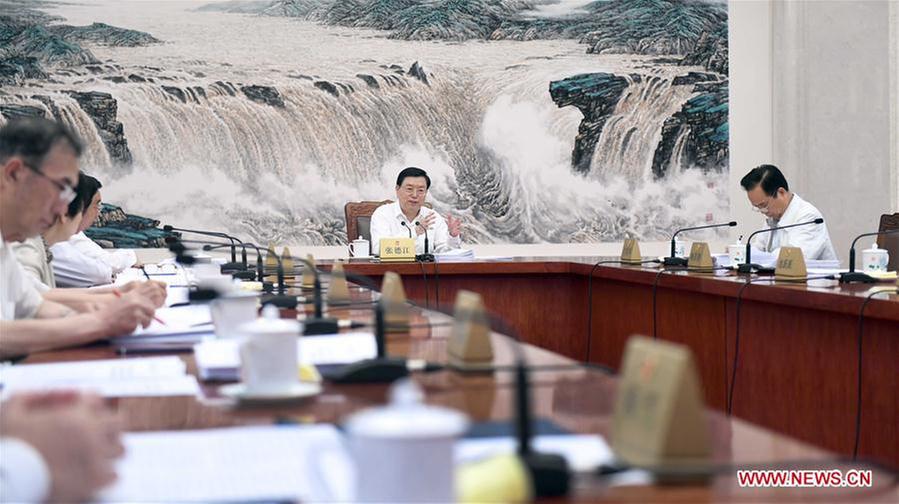 Zhang Dejiang, chairman of the Standing Committee of the National People's Congress, presides over a chairpersons' meeting in Beijing, capital of China, June 15, 2017. [Photo/Xinhua]
BEIJING -- China's top legislature will convene its bi-monthly session from June 22 to 27, according to a statement issued after a chairpersons' meeting Thursday.
Zhang Dejiang, chairman of the National People's Congress (NPC) Standing Committee, presided over the meeting.
Thursday's meeting suggested that legislators at the upcoming bi-monthly session will deliberate on the draft law on national intelligence, draft amendments to the Water Pollution Prevention and Control Law, and draft revisions to the Law of Promoting Small and Medium-sized Enterprises.
Legislators will deliberate on bills, including those to review the draft laws on national anthem, soil pollution prevention and control, and public libraries, and draft amendments to the laws on administrative procedure and civil procedure, among others.
Other bills, including those to review and ratify extradition treaties between China and Argentina, and that between China and Ethiopia, will be also deliberated at the session.
Moreover, lawmakers will consider a number of reports, including a report by the State Council on the central government's final accounts in 2016 which is expected to be reviewed.
The session will review some official appointments and dismissals, according to the statement.