Watermelon experts in high demand
By China Daily in Shanghai | China Daily | Updated: 2017-06-16 07:57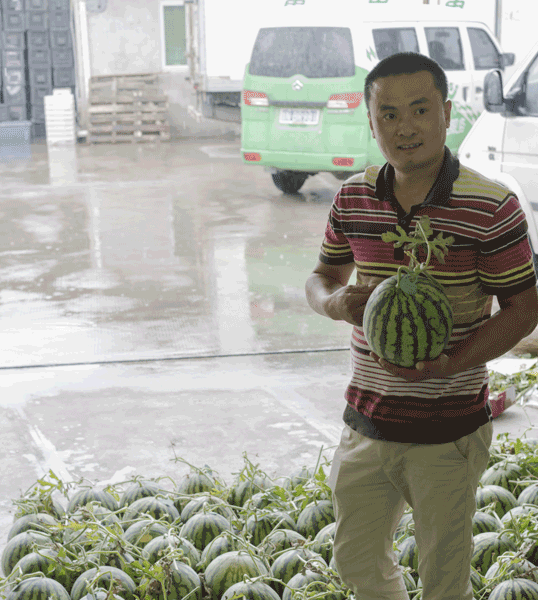 Zhu Linjie sorts through watermelons at the Shanghai Lyuni Melon and Fruit Professional Cooperative. He Qi / For China Daily
Surrounded by hundreds of watermelons, a man uses his index finger to knock on each one, putting the good watermelons into boxes for sale and returning the others to suppliers. The man is Zhu Linjie, one of only a few authenticated watermelon experts in Shanghai.
Zhu, 35, has been a professional watermelon expert since 2009, as certified by the Shanghai Melons and Fruits Association. Working at the Shanghai Lyuni Melon and Fruit Professional Cooperative, his duty is to pick high-quality watermelons of the well-known local type 8424 during the watermelon season between April and September.
As a watermelon expert, summer is Zhu's busiest time, when he sorts through an average of about 2,000 to 3,000 watermelons every day from 7 am to 2 pm, checking them for their water content and sweetness.
High-quality watermelons are sent to the cooperative's fruit stores in Shanghai's Pudong New District or to customers who have made orders online.
In 2009, the association held its first Watermelon Appraisal Contest. Only 10 out of almost 60 participants were awarded professional watermelon expert certificates after being tested on their ability to judge a watermelon's sweetness, weight, thickness of rind, and number of seeds inside just from observing and handling the fruit.
"The purpose of the competition was to cultivate professional watermelon experts due to complaints about the quality of watermelons on the market," said Zhu Longzhou, a representative of the Shanghai Melons and Fruits Association.
He added that because of the difficulty of the test, no one showed an interest in being tested the next year, so the contest was suspended.
Zhu Longzhou said there are only about 10 watermelon experts in Shanghai, which is far from enough considering the city has hundreds of watermelon cooperatives.
"We want to make sure each cooperative has at least one professional expert," he said. "The test will be resumed when the time is right."
As one of the most popular summer fruits, known for its cooling qualities, watermelon consumption in Shanghai is huge, with the city producing an average of 27 metric tons of watermelon rind a day during summer last year, according to Zhu Longzhou.
He said a qualified watermelon expert is someone who seldom receives complaints from customers.
"Once you receive a complaint, it means your method needs to be corrected as soon as possible," Zhu Longzhou said, adding that the method for determining a good watermelon changes based on the weather, temperature and soil.
"The occupation of professional watermelon experts is necessary to help ensure cooperatives are selling high-quality watermelons," he said. "But everyone should know the basics of how to pick a good watermelon."
He said the five key indicators of a high-quality watermelon are: an apparent grain on the rind; a tiny circle on the underside; a sunken melon vine; smooth rind; and a relatively dull sound when knocked on.
He Qi contributed to this story.