Love conquers hardships in bitter-cold border village
By Tian Xuefei in Mohe,heilongjiang and Zhou Huiying in Harbin | China Daily | Updated: 2017-06-16 07:57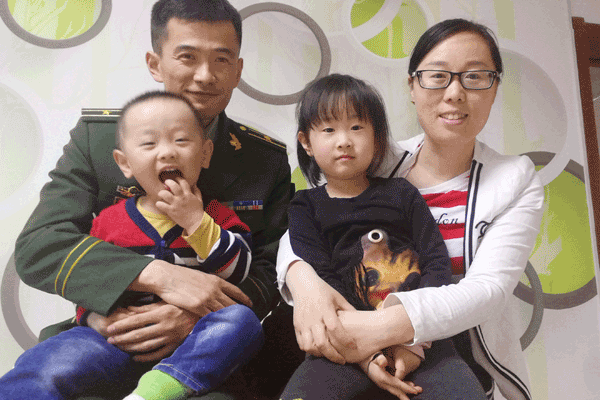 Zhao Lujie and Gu Suli with their two children at home in Beiji village, Heilongjiang province. Photo Provided To China Daily
Fourteen years after falling for each other, couple cherish simple life
Guo Suli has fond memories of her wedding ceremony seven years ago in Beiji village in Mohe, the northernmost county in Heilongjiang province.
"It was on Dec 25 and the temperature fell to -42 C," the 34-year-old Guo said. "It was extremely cold that day, but I felt happy. The white snow and ice was just like our love - pure."
Her husband, Zhao Lujie, 35, has been an officer with the Beiji border police station since graduating from college in 2006. Before the wedding, they had been apart for eight years.
"He is a police officer so his choices are limited," Guo said. "I wanted to follow him, but it was not that simple."
They were high school classmates and fell in love after passing their national college entrance exams in 2003, although they were accepted by colleges in different cities.
In 2006, when Zhao graduated from Heilongjiang Police College, he applied to serve in the border county of Mohe.
"Guo gave me great support, but the choice meant I was even further away from her," Zhao said.
The next year, Guo completed her studies at the Inner Mongolia University of Science and Technology and became a graduate student at Lanzhou University in Gansu province. "It was really difficult for us to meet up at that time," Guo said.
She graduated from Lanzhou University in 2010, but it didn't mean they could reunite immediately.
Guo faced tough choices. Her university supervisor recommended that she become a teacher at the Gansu Provincial Party School, while her parents hoped she would return to her hometown in Yuncheng county, Shandong province.
However, she chose to follow the man she loves and went to Beiji, where there were few job opportunities.
Without a betrothal gift or even a wedding photo, the young couple obtained a marriage license immediately after Guo's arrival.