Villagers come together to rebuild lives
By Luo Wangshu | China Daily | Updated: 2017-06-23 07:26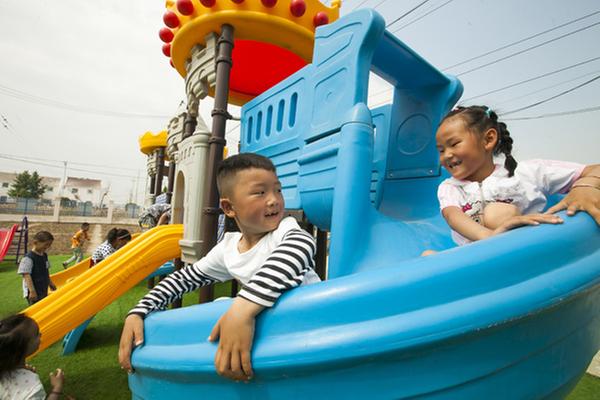 Children play at the restored Nanwan Kindergarten. GAO YEQIAO/CHINA DAILY
"The healing process varies according to the individual. For most of the children, the stress responses will disappear in a year, but some bad memories may lurk and resurface later if a random incident triggers a response," he said.
Counseling professionals are still helping the children to cope with the trauma.
In the wake of the disaster, professional organizations, including local mental health clinics, universities and research institutes, and charity groups set up both temporary and long-term centers in the county.
Three days after the tornado, a picture book center was established in a tent.
"We accompanied the children and helped them release the pressure and negative emotions by telling stories, playing games and painting," Yang said.
"Many of the children were distraught and reluctant to communicate. Our center received Dabao and Xiaobao, 4-year-old twin brothers; when they first came to the center, they hid behind their grandparents and refused to come out. But later, when they saw our volunteer teachers, the twins ran to them and asked to play games," he added.
"Many children chose to paint pictures in black and other dark colors, drawing dark clouds with short, staccato lines, indicating anxiety and tension. After our intervention, their paintings became brighter and more colorful with steady lines, meaning their psychological state had improved."
There is no official data about the number of children who received psychological counseling, but the picture book center received 30 children a day for two months.
The Institute of Psychology at the Chinese Academy of Sciences set up two recovery centers, one in a school and the other in the community, to help the children recover.
"Tornadoes traumatize children, so our first job is to calm their emotions and tell them it's normal to be frightened and to cry, and it's OK to feel helpless. We let the children release stress. For example, they cried when more bad weather came, and their parents usually told them not to be scared. But we told them, 'If you want to cry, then cry'. We allowed them to release their negative emotions, such as fear and anxiety," said Sun Rui, a licensed psychological counselor with the institute who volunteered to work in Yancheng, to explain the recovery process.
Along with her colleagues, Sun also provided safety education.