Chongqing's rooftop road raises eyebrows
By Tan Yingzi in Chongqing | China Daily | Updated: 2017-06-24 07:00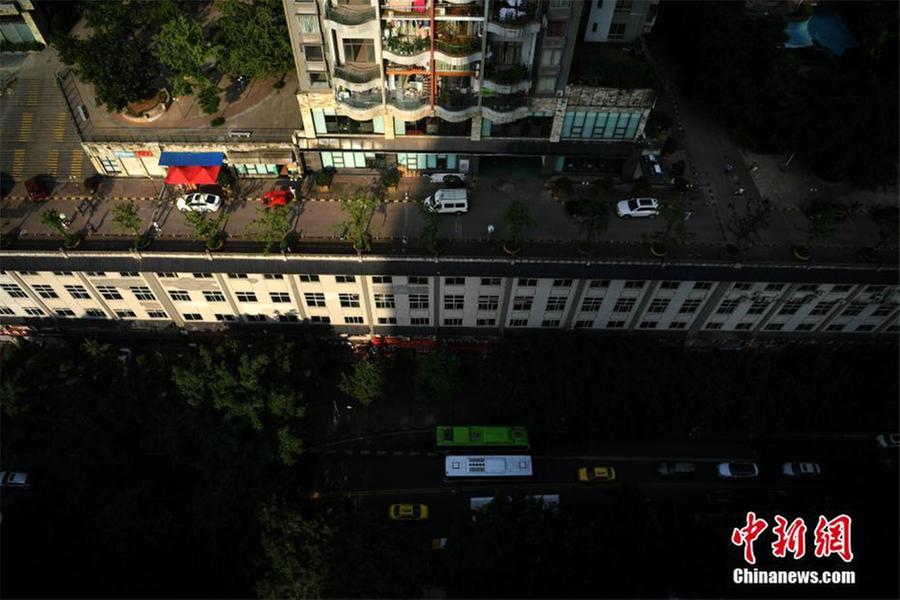 Vehicles use a road that crosses the top of a building in Chongqing on June 21, 2017.[Photo/chinanews.com]
"Although it (the road) is on the roof of the garage, it is on the ground floor of our residential buildings," said Jian Hong, a resident who has lived there for six years.
"Not many cars enter the community by this road, so it does not make much noise. We often take a walk here after dinner."
Chongqing is partially surrounded by two rivers and built on mountains. It has many distinctive construction and transportation designs to cope with the challenging landscape.
In March, the scene of a light rail passing through a building was popular in foreign media and prompted vigorous discussions.
Chongqing also boasts the highest overpass in the country, at 72 meters. People can see the cars driving on the overpass from windows of the 22nd floor of a nearby building.
"In the future, Chongqing will have more such unique buildings to cope with our landscape as our construction technology improves," Zhu Ye, of the Chongqing Institute of Design, told Chongqing Daily.