China releases ID of people missing in landslide
Xinhua | Updated: 2017-06-25 10:33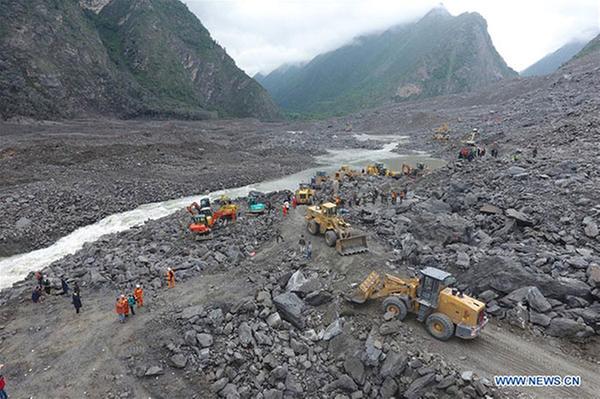 Rescuers work at the accident site after a landslide occurred in Xinmo village of Maoxian county, Tibetan and Qiang autonomous prefecture of Aba, Southwest China's Sichuan province, June 24, 2017. [Photo/Xinhua]
MAOXIAN - Local authorities have released the identities of 118 people who are missing in a mound of debris after a landslide hit a mountainous area in Southwest China's Sichuan province on Saturday.
The names and identification numbers are published on the website of Aba Tibet and Qiang autonomous prefecture on Sunday. The government asked the public to provide clues which may lead to their rescue.
Over 3,000 rescuers are racing against time to save the trapped people. Fifteen people have been confirmed dead, according to Wang Minghui, who leads the rescue work.
The landslide swept 62 homes in Xinmo village, Diexi township, of Maoxian county at 6 am Saturday, blocking a 2-km section of river and burying 1,600 meters of road.
The collapsed rubble is about eight million cubic meters, according to Sichuan provincial geological experts.
The county is located along the Minjiang River, a major tributary of the Yangtze River in the upper stream. A 7.5-magnitude earthquake in 1933 left many villages at Diexi submerged.
In 1976, two strong earthquakes struck places about 100 km near Diexi. The town is about 150 km from the epicenter of an 8.0-magnitude earthquake in 2008, which left over 80,000 people dead or missing.