Torrential rain leaves many parts of China flooded
chinadaily.com.cn/Xinhua | Updated: 2017-06-26 08:51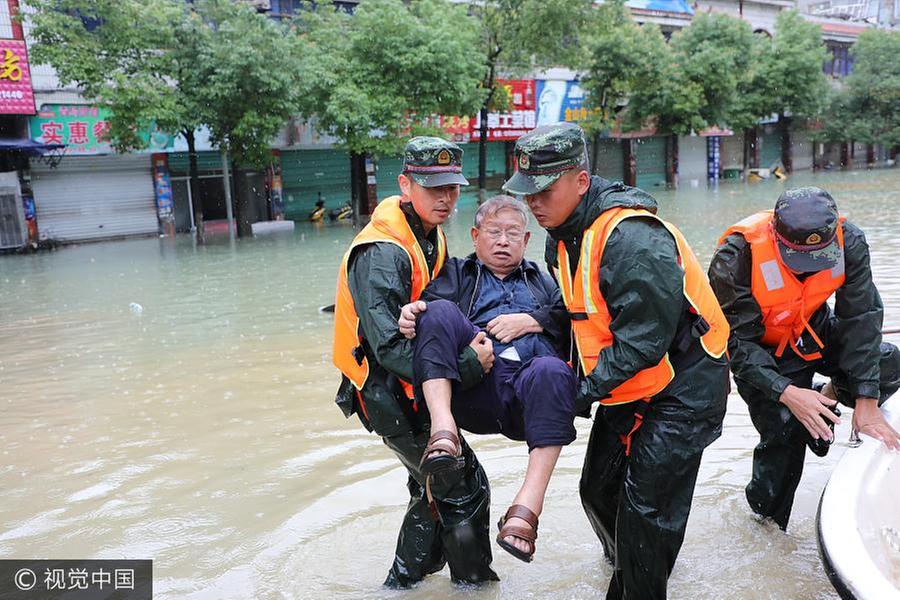 Firefighters try to rescue a villager after torrential rain flooded the roads in Jiujiang, East China's Jiangxi province, June 24, 2017. [Photo/VCG]
BEIJING — Days of torrential rain triggered floods and landslides in many parts of South China, forcing the evacuation of more than 450,000 people.
Over 3,000 rescuers are searching for 93 persons still buried under rocks and mud by a landslide in Southwest China's Sichuan province.
Rain-triggered disasters have also left at least 22 people dead and six missing in provinces of Jiangxi, Guizhou, Hunan, Yunnan and Anhui.
In Jianxi, heavy rain that started to lash on Thursday has affected 1.8 million people and forced 270,000 people to be relocated to safe places in 47 counties and districts, the provincial flood control authorities said.
Flash floods and landslides have left six people dead and three others missing in Jiangxi.
The rain is forecast to weaken on Monday and Tuesday but to get heavier again on Wednesday and Thursday.
In Guizhou, nine people were killed and two remained missing after torrential rain pounded the region over the past few days. Heavy rain also damaged 35,418 hectares of crops and inflicted a direct economic loss of 610 million yuan (89 million U.S. dollars).
In Hunan, 151,900 people were evacuated and 642 small and medium-sized reservoirs overflowed in wake of the largest rainfall this year.
Three people of a family in Luxi County of Hunan were found dead in a landslide that occurred on Saturday.
The water in 14 rivers along the Yangtze River valley has risen above warning levels and heavy rains in the coming few days could further raise the water level in the middle and lower reaches of the Yangtze River, the Changjiang Water Resources Commission said Sunday.