A tale of miracle survival amid desperate search for life in landslide-hit village
By China Daily | China Daily | Updated: 2017-06-26 07:03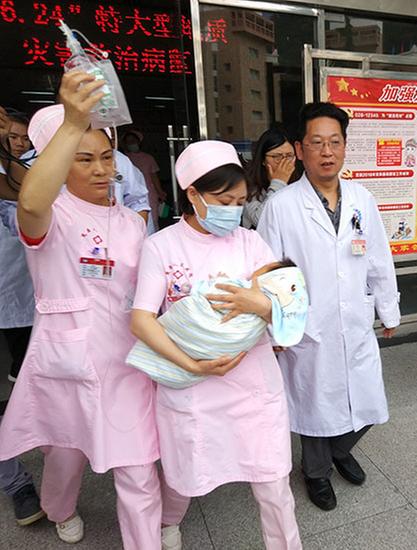 Qiao Daochun, an infant whose crying awoke his parents and helped save them from the landslide, is transferred to a hospital in Chengdu, Sichuan province.Yang Li / For China Daily
Parents saved by their baby's cries at dawn
An infant saved his parents and himself from almost certain death in a landslide that buried about 120 people in Southwest China on Saturday morning, Chengdu Economic Daily reported.
Xiao Yanchun and her husband, Qiao Dashuai, both 26, live in Xinmo village, Maoxian county, in the Aba Tibetan and Qiang autonomous prefecture of Sichuan province. At about 5:40 am, their 38-day-old son was crying, so Xiao got up to change his diaper.
When she was about to go back to bed after taking care of the baby, she heard a strange sound outside the door and felt the earth shaking.
Seeing stones, water and mud flooding into the room, she grabbed the infant and struggled to get out.
She and her husband literally swam through the moving mud as they attempted to get out, and were finally able to run to a safe area as the whole village was engulfed.
At about 9 am, the family was sent to Maoxian County People's Hospital.
"Mud is all over our bodies," Xiao said. She said her baby swallowed mud and later, when it appeared in his excrement.
The three remained in the hospital for treatment on Saturday evening, but their injuries are not life-threatening, the report said.
However, the fate of Xiao's grandmother, parents and 3-year-old daughter, who were in a different house, is still unknown, according to media outlet The Paper.