Expert: Mountain damaged internally
By Zhang Zhihao | China Daily | Updated: 2017-06-26 07:13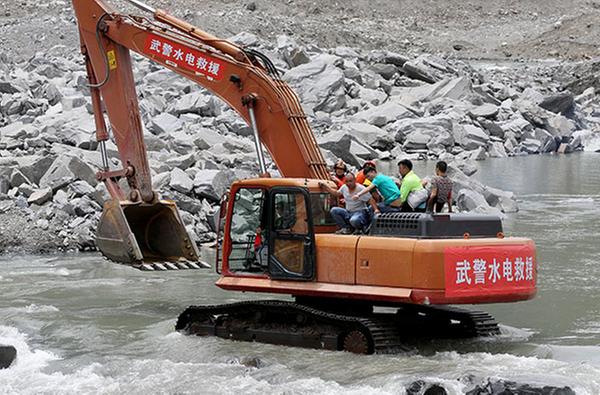 Soldiers of the People's Armed Police Hydropower Forces move people affected by the landslide to safety using an excavator in Maoxian county, Sichuan province, on Sunday.[Photo by Feng Yongbin/China Daily]
Past quakes inflicted deep 'wound'; remedial action will require decades
The landslide in Xinmo village is likely the result of constant regional rains recently, combined with structural damage to the mountain caused by the 2008 Wenchuan earthquake, experts said on Sunday.
Disaster prevention in the region will be a long and difficult battle, they said, adding that it will take two to three decades for scientists to fully understand the situation, and for measures to be taken to prevent new dangers.
The landslide originated 3,400 meters above sea level at the top of Fugui Mountain, thus classifying it as a high-altitude landslide. Eighteen million cubic meters of debris slid 1,250 meters downhill at a 55- to 60-degree angle straight at the village, said Pei Xiangjun, a geological disaster expert at the Ministry of Land and Resources.
The steep slope and high plant density on the mountain has made it difficult for scientists to survey the slope and detect signs of movement. The lack of information meant that there was no warning before the slide that took place on Saturday at around 5:40 am. It buried 62 homes, killed 10 people and left 93 people missing as of Sunday afternoon.
Pei said the disaster originated on the Songpinggou fracture belt, where large earthquakes often start-including the 1933 Diexi and 2008 Wenchuan earthquakes.
"These earthquakes caused deep structural damage in the ground," Pei said. "This is an internal wound, not a skin disease."
As a result, the structural integrity of the mountain has been compromised, he said. Coupled with constant rain in the region, conditions for landslides are ideal.
"Japan's Kanto earthquake, Taiwan's Chichi earthquake and other major earthquakes throughout history are often followed by major geological disasters," Pei said. "This is a major challenge that the entire world faces."
Xu Qiang, another disaster expert from the ministry, said the government, at the advice of scientists, has implemented new measures and technologies to prevent disasters. But it's an uphill battle and will take two to three decades for scientists to fully understand what underground damage was done by the 2008 Wenchuan earthquake, and to take preventive measures.
"Disaster notification and prevention is still a long and difficult mission in the foreseeable future," he said.
When asked why the government hasn't relocated the population, despite knowing the mountain's internal structure is damaged, Xu said massive relocation is impractical because of the deep cultural and socioeconomic ties between the residents and their land.
"Many of the villagers have been living here for generations and seen no major geological disasters," Xu said. "This is their home and livelihood, and it is very difficult to convince them to leave, especially when you only have a hypothesis and predictions."