Ban likely by year's end on more synthetic drugs
By Zhang Yan | China Daily | Updated: 2017-06-26 07:03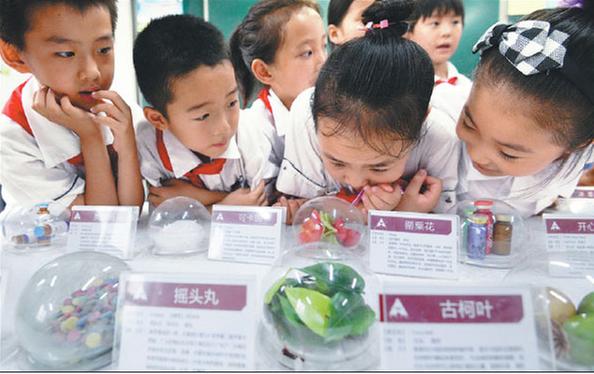 Students look at drugs displayed at a primary school in Handan, Hebei province, on Friday. The event, which was held by local police, aimed to help teach the children about the dangers of illegal substances.[Photo by Hao Qunying / For China Daily]
Artificially made active ingredient of marijuana one of dozens in tests
China may ban a deadly synthetic component of marijuana, along with more than two dozen other potent synthetic drugs, by the end of the year, according to a police official.
Last week, the Ministry of Public Security announced the ban of four synthetic drugs, noting the concurrence of the National Health and Family Planning Commission and the China Food and Drug Administration.
Now the evaluation has expanded. The additional drugs being evaluated - known collectively as novel psychoactive substances, or NPS - include 4-CEC, a psychoactive stimulant related to methamphetamine, but potentially even more dangerous, like the drug PMMA, which was banned last week, said Yu Haibin, an official at the ministry's narcotics control bureau.
He said the drugs are likely to be listed as controlled substances by Chinese authorities before the end of the year after experts complete an in-depth assessment.
Hua Zhendong, a doctor of analytical chemistry at the National Narcotics Laboratory, said about a dozen professional experts, including government officials, anesthesiologists, forensic scientists and university professors, are conducting a three - to six-month research project on the substances.
"The 30 NPS have been frequently ordered online and exported abroad, while some foreign media outlets have reported deaths caused by the use of such substances," Hua said.
Yu said that once the assessment is complete, the results will be submitted to the ministry, the National Health and Family Planning Commission and the China Food and Drug Administration for review, with the three central agencies making a joint decision on whether to ban the drugs.
Deng Ming, deputy director of the bureau, said that NPS have similar or more potent affects than traditional drugs.
In recent years, more than 100 deaths have been reported in Western countries due to NPS abuse.
Figures from the ministry show that since October 2015, police have arrested 10 suspects involved in NPS production or trafficking, and destroyed eight operations found to be manufacturing the drugs.
Meanwhile, the police have confiscated 1,753 kilograms of NPS and 10 tons of raw materials used for producing them, according to the ministry.
Foreign parties typically conduct business with Chinese accomplices online, including ordering drugs, purchasing materials and transferring money, Yu said.
On June 19, Chinese authorities announced the banning of four synthetic drugs: U-47700, sometimes called "U-4" or "Pink", which more than seven times more potent than morphine, and was linked to the death of musician Prince; MT-45, which has a similar effect to morphine, and is associated with hearing loss and unconsciousness; PMMA, which is a psychedelic stimulant related to methamphetamine, but is potentially more dangerous; and 4,4'-DMAR, which is known by its street name "Serotoni". The bans will take effect on Saturday.
According to the ministry, 138 kinds of NPS, including 23 kinds of fentanyls, have been listed as controlled substances in China, while nine categories of NPS and 789 subcategories have been discovered worldwide.
Deng said that Chinese authorities will deepen law enforcement cooperation with other countries to curb NPS-related crimes.
Justin Schoeman, country attache for the United States Drug Enforcement Administration in Beijing, said measures by Chinese authorities to ban NPS in China help save lives in the US.
Among the 30 drugs being tested are AMB-FUBINACA (the synthetic form of a component of marijuana), and 5F-ADB - also known as 5F-MDMB-PINACA, an active ingredient in synthetic cannibis (marijuana) products - and 4-CEC, another psychoactive substance.