Liaoning FTZ acts as portal to emerging regional markets
By SONG MENGXING/ZHANG XIAOMIN | China Daily | Updated: 2017-06-28 09:06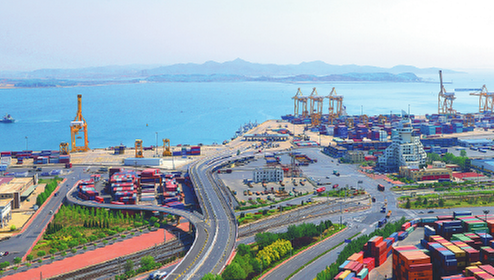 More than 70 percent of bulk goods transported by sea and more than 90 percent of container transportation in China's northeastern region are shipped via Dalian. [Photo/CHINA DAILY]
The Dalian area of the Liaoning Pilot Free Trade Zone aims to become an important area opening-up to and cooperating with Northeast Asia, local officials in Dalian said.
On June 12, 150 noted companies, including Intel and Pfizer, recruited professionals at an employment event of the Dalian area.
The Dalian FTZ area was launched in Dalian Jinpu New Area on April 10 and covers an area of 59.96 square kilometers, accounting for about half of the area of the Liaoning Pilot Free Trade Zone.
Wang Qiang, director at the administration committee of Dalian Jinpu New Area, said that the new area recently issued 19 policies related to attracting and fostering professionals to create an excellent environment in Jinpu and the Dalian FTZ area.
The Dalian FTZ area and the Jinpu new area will mainly boost such sectors as shipping and logistics, finance and commerce, advanced equipment manufacturing, high technology and modern services. They want to help Dalian to become the center of international shipping and logistics in Northeast Asia, local officials said.
Xiao Shengfeng, mayor of Dalian, said that governments at different levels in Dalian should take the opportunity of the Dalian FTZ area to create a stronger and more open investment and trade environment.
"The FTZ area needs to strengthen contacts and communication with companies, learn about businesses' demands and help companies to solve problems and provide better services to foreign-funded enterprises," Xiao said.
In the first month after the Dalian FTZ area launched, it attracted 1,900 companies with combined registered capital of more than 5 billion yuan ($730.9 million). The companies cover such fields as finance, trade, logistics, leasing and information technology.
Guo Ping, professor at the law school of Dalian Maritime University, said that free trade zones play an active role in promoting international trade, facilitating trade procedures and driving international transportation.
She said the plan for deepening reform of the Shanghai Pilot Free Trade Zone released in March for the first time proposed the establishment of free trade port areas, making the zone's role in facilitating trade more obvious. If Dalian could have similar plans, it would further promote logistics and international transportation, Guo said.
The Dalian FTZ area boasts distinct advantages and features, local officials said.
It has a good location as Dalian is in the center of Northeast Asia's economic region and also one of the first cities in China to undergo opening-up.
The area has a well-established system for its opening-up. It is home to the first bonded area, bonded port area, export processing area and high-tech park in Northeast China.