Big data assists in fighting knockoffs
By Zhou Wenting in Shanghai | China Daily | Updated: 2017-06-29 07:23
E-commerce powerhouse Alibaba said big data technologies have helped it detect more than 61,000 individuals or groups suspected of operating shops that sell counterfeit goods on Taobao, its online shopping portal.
In addition, it has detected 1,640 factories that produce fake goods and supply them to online dealers, Zheng Junfang, Alibaba's chief platform governance officer, said at a media briefing on Wednesday.
These findings were based on the investigating, or "digging", of more than 180,000 stores on Taobao, which were found by Alibaba to have sold counterfeit items. These stores were closed from March last year to February.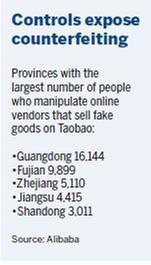 "The people who control such online shops and benefit from selling counterfeits are not usually the people who register as being responsible for the shops. They use other people's ID to hide their real identities, but big data technologies have allowed us to detect and locate them," Zheng said.
A map of "controllers" showed that they are mainly concentrated in areas along the east coast of the Chinese mainland. The number of controllers in the provinces of Guangdong, Fujian, Zhejiang, Jiangsu and Shandong - the top five provincial-level regions with the largest number of such manipulators - accounted for nearly two-thirds of the country's total.
The location of these behind-the-scene big bosses was highly related to industrial clusters in different regions. "For example, most of those detected in Guangdong were bosses of online stores selling watches. Similarly, it was shoes in Fujian, women's clothes in Zhejiang, and purses and suitcases in Shandong," Zheng said.
Alibaba's findings matched the findings of police investigations into the selling of fake goods, according to Ye Zhifei, chief of Alibaba's IP center.
"Last year, police in Putian, Fujian, cracked seven cases involving the production of more than 15,000 counterfeit shoes and more than 20 million yuan ($2.94 million) with the assistance of our technological support," Ye said.
In the past two years, Alibaba has joined hands with police in several provinces to launch campaigns using big data and offline actions to stamp out fake goods.
"We'll try our best to block vendors with bad reputations from re-entering our shopping portal, no matter how they disguise their identities," Zheng said.
Alibaba has been taking action to bolster its credibility after a number of international brands, including Gucci and Hermes, voiced concerns about counterfeit goods on its shopping portal and had it suspended from the International AntiCounterfeiting Coalition, a nonprofit organization, in May last year.