Mobile sector's IoT connections to top 1.75 billion by 2020
By Fan Feifei in Shanghai | China Daily | Updated: 2017-06-30 07:49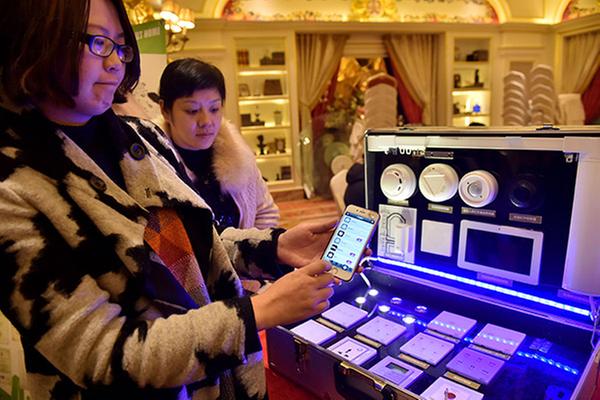 A woman demonstrates how to use an app to manage lights and electronics at home during an IoT expo in Hangzhou, capital of Zhejiang province. [Photo/China Daily]
China Mobile Communications Corp, the world's largest telecom carrier by subscribers, said mobile internet of things (IoT) connections will surpass 1.75 billion by 2020, as the telecom heavyweight accelerates its commercialization of IoT services across the country this year.
China Mobile on Thursday announced it would establish an IoT alliance in cooperation with nine partners, including Alibaba Group Holding Ltd, Huawei Technologies Co, Qualcomm Inc and Haier Group, in a move to establish an open and sharing IoT industry ecosystem.
"We will further expand IoT connections and estimate that smart connections will increase by 100 million to 200 million this year," Sha Yuejia, vice-president of China Mobile, said at the 2017 Mobile World Congress in Shanghai.
Sha said the company's mobile IoT connections surpassed 120 million by the end of May, with wide application in internet of vehicles, smart bicycles, finance and wearable devices.
China Mobile has become the world's largest IoT connection service provider, with IoT base stations reaching more than 1.62 million, Sha said, adding they will promote NB-IoT and eMTC technologies this year, as well as accelerate layout in IoT chipsets, modules and terminal devices.
It has stepped up efforts to promote the application of NB-IoT in these areas, such as intelligent meter reading, intelligent building, intelligent wearable devices, transportation and logistics.
In May, the company launched an NB-IoT pre-commercial service in Yingtan, Jiangxi province. It is leading the establishment of domestic standards related to NB-IoT.
The NB-IoT is a narrow band radio technology designed for IoT, allowing connections between IoT devices that is faster and on a wider range. It has the advantage of low cost, wide coverage, less energy consumption and long battery life, compared with Bluetooth and Wi-Fi.
In May, the Ministry of Industry and Information Technology announced the speeding up of the commercial use of NB-IoT in China. The ministry said it was encouraging companies to promote technical reform of broadband network infrastructure to facilitate its commercial use.
The ministry said the technology could be applied to the industrial internet and urban public services.
Other domestic telecoms operators have stepped up their efforts to boost the application of the NB-IoT. China Telecom Corp carried out outdoor NB-IoT tests in 12 cities in the first quarter.
According to market consultancy IDC, there will be a projected 30 billion connected "things" and a revenue opportunity of $1.7 trillion for the IoT worldwide.
Fu Liang, an independent telecom expert, said NB-IoT will become an important business growth point for telecom carriers in the future, which also shows huge potential and application prospects, adding telecom carriers have invested large amounts of resources in the sector.