Preschool program teaches kids how to play soccer with a smile
By Sun Xiaochen in Ordos, Innermongolia | China Daily | Updated: 2017-07-03 07:02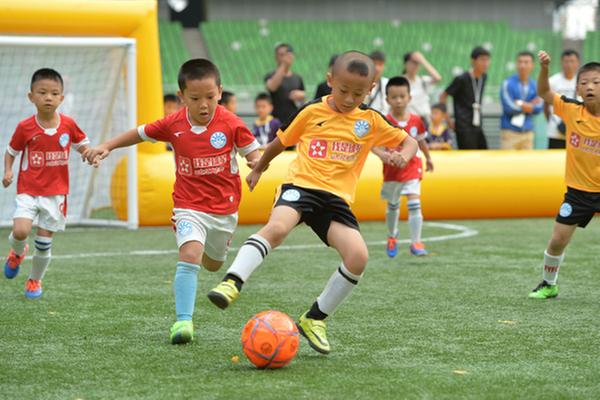 Two kindergarten teams from Zhuhai, Guangdong province, compete in a five-a-side match on Saturday during the 2017 National Children's Football Expo in Ordos, Inner Mongolia autonomous region. Photo Provided To China Daily
In 2002, the Chinese national soccer team was inspired to reach its first - and so far only - FIFA World Cup in Japan and South Korea by head coach Bora Milutinovic's "happy soccer" philosophy.
Fifteen years on, the country plans to further instill the concept by introducing a tailor-made preschool soccer program at 27,000 kindergartens by 2020.
A smart teaching system, part of the China Eyas Program, was launched on Saturday at the National Children's Football Expo in Ordos, Inner Mongolia autonomous region, the first provincial-level soccer reform pilot area.
An expert panel appointed by the National Development Committee for Young Children's Sports has customized the curriculum to suit the mental and physical condition of children age 3 to 6, with the stress on fun rather than technical aspects of the game.
The China Eyas Program, which was launched by the China Soong Ching Ling Foundation and the China Sports Foundation in May last year, will bring the teaching system to 3,000 preschools nationwide on a trial basis by the end of this year.
"Early years educational institutions are operating everywhere, but there hasn't been a national platform to offer standard and tailor-made soccer training for such young children before," said Hu Jianguo, director of the committee. "We expect the program to make a difference."
The smart teaching system is based on cloud data storage and consists of monitors, tracking cameras and wearable devices. Teachers nationwide can study the curriculum online, organize classes with video guidance, and improvise based on the collected data.
Parents can also track a child's real-time participation in training and receive feedback from teachers via a mobile app.
"You will never have enough trainers to expand soccer education across the country, so this system addresses the issue with a high-tech and efficient solution," said Liu Hong, executive partner of Beijing Yinglets Sports, which operates the system.
During the Ordos expo, which ends on Tuesday, children from more than 30 kindergartens have been competing in a five-a-side tournament, while 120 teachers have received theoretical and practical training.
China has an ambitious soccer development plan, but the education of preschool children is often overlooked and needs more attention, according to Wu Gang, vice-president of the Inner Mongolia Football Association.
"To develop soccer, we really need to start with children at a very young age," he said. "If you look at European countries, kids begin signing up with clubs to receive training when they are little more than toddlers."
However, experts also warn against pushing kindergarten children too hard.
"Younger kids understand things differently. ... The information needs to go in a little bit easier and at a slower pace," said Aaron Reynolds, founder of the Beijing Aaron Football Academy, which has about 500 students.
"It's a golden age for kids to move into football between 3 and 6, but they need to learn more psychologically as opposed to physically during this phase. Just give them a ball, teach them to be confident and have fun."
sunxiaochen@chinadaily.com.cn