All-network smartphones change mobile tech game
By Ma Si | China Daily | Updated: 2017-07-03 08:21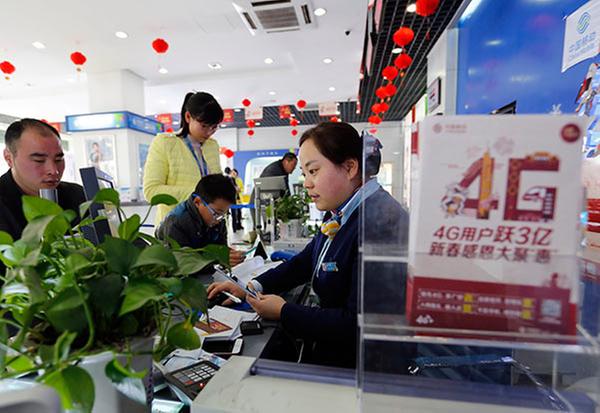 A China Mobile staff member in Ganyu, Jiangsu province, helps a client with 4G service. [Photo by Si Wei/For China Daily]
Two of China's major telecom carriers, which trail the market leader, have joined forces to step up efforts to introduce phones that can access all networks.
China United Network Communications Group Corp, better known as China Unicom, and China Telecommunications Corp have intensified the campaign for smartphones that can support six different communication technologies (to wit: GSM, CDMA, TD-SCDMA, WCDMA, TD-LTE and FDD-LTE).
In the domestic mobile services market, the duo trails China Mobile Communications Corp.
Once such six-mode handsets become popular, it will be far easier for consumers to buy a new phone. They don't have to worry about whether the gadget supports the technology used by a particular telecom carrier and they have more freedom to change carriers later, said Ku Wei, deputy marketing manager of China Unicom.
Last month, China Telecom and China Unicom's proposal of smartphones supporting six different communication technologies was approved as part of the global communication standards by the Global Mobile Suppliers Association, an international standards organization representing interests of mobile operators worldwide.
The proposal, approved with a unanimous vote at the GMSA's 29th plenary meeting held in Sweden, put such smartphones under the umbrella of multi-SIM devices.
Multi-SIM device refers to any smartphone that natively accommodates multiple SIMs. In China, dual-SIM handsets are in vogue, which enable one phone to support two carriers at the same time.
Analysts believe that the GMSA's approval represents the interests of multi-SIM device users in some specific areas like China.
The global acknowledgement came after all-network access handsets became a national standard in China last year. Since then, multi-SIM devices have swiftly taken a dominant position in the world's largest smartphone arena.
Latest data showed that six-mode smartphones accounted for 75 percent of the mobile devices sold last year.
China Unicom and China Telecom estimated the figure will exceed 85 percent by this year-end.
"An increasing number of handset manufacturers will make devices in accordance with the standard, so the manufacturing cost will go down, for they do not have to make different types of contract phones for different carriers," said Xiang Ligang, a telecom expert and CEO of telecom industry website cctime.com.
"The global acknowledgment of the international standard will also bring consumers big convenience, especially for those who suffer from no telecom signal in foreign countries. Multi-SIM handsets will become increasingly popular in future," Xiang said.
As the trend sweeps China, a fierce debate is raging about the country's main telecom providers.
China Telecom and China Unicom, two of the main initiators of the proposal, suggest that a multi-SIM device must be able to support all of the six different communication technologies, while China Mobile considers the idea as unnecessary.
It thinks it would be enough to support the mainstream technologies, indicating that there is no need to include the CDMA mode, which is backed by China Telecom.
Also, China Mobile, the world's largest telecom carrier by subscribers, said in its advertisements for dual-SIM-card contract smartphones that consumers can use only China Mobile's 4G network when one of the two SIM cards is China Mobile's.
There is not such a requirement for China Unicom and China Telecom's contract phones.
Fu Liang, an independent analyst, said, "China Mobile is trying to safeguard its dominant position in the sector, but China Unicom and China Telecom are offering data packs at far lower costs, which will significantly increase their popularity."
As of May, China Mobile had 863 million subscribers, including 583 million 4G users. China Telecom and China Unicom had 147 million and 133 million 4G subscribers respectively.
Yang Yafei, a student of the University of International Relations, uses China Unicom's mobile services. He said, "I prefer multi-SIM devices. They are very convenient. I don't think China Mobile's efforts to limit the choice of telecom carriers within a dual-SIM handset will pay off. After all, we are free to choose whatever telecom services we like."
Zhuang Qiange contributed to the story.