ZTE Corp vows to ratchet up its spend on burgeoning 5G
By Fan Feifei | China Daily | Updated: 2017-07-04 08:28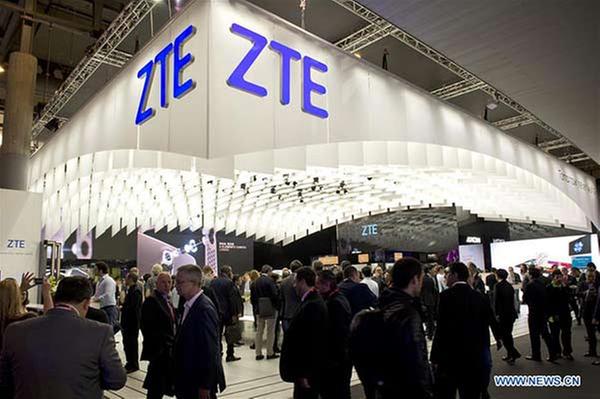 Visitors walk in front of the ZTE stand at the Mobile World Congress 2016 in Barcelona, Spain, Feb 22, 2016. [Photo/Xinhua]
China's ZTE Corp said it will invest 2 billion yuan ($294.8 million) in 5G research and development each year, as China steps up its efforts to build the world's biggest 5G network and to commercialize 5G services in 2020.
Cui Li, vice president of ZTE's wireless product operations division, said her group's R&D spending on 5G would further increase on "a wide range of fields such as infrastructure construction, terminal devices, chips, internet of vehicles, internet of things and big data."
ZTE has invested more than 1 billion yuan annually in the R&D of 5G, with more than 2,000 experts in China, Japan, Europe and North America focusing on leading-edge research into key technologies.
The company says it now commits 10 percent of its annual revenue to R&D.
"We are leading the way in 5G research and working closely with leading operators such as China Mobile, China Unicom, China Telecom, SoftBank, Deutsche Telekom and Telefonica, to accelerate the development and commercialization of 5G," Cui said.
ZTE said it is building on its leadership in 5G network innovation with more than 1,500 related patent applications on 5G.
In April 2016 the company signed a 5G cooperation memorandum with China Mobile on a 5G Joint Innovation Lab. Recently, China Mobile and ZTE conducted a 5G field test in Guangzhou University Town.
In August 2016, ZTE signed a strategic cooperation agreement on joint 5G and internet of things innovation with China Unicom.
Moreover, the Shenzhen-based company is a major participant and contributor on global 5G technology and standardization research activities, with proactive participation in 5G standardization discussions.
During the Mobile World Congress in Shanghai last week, ZTE officially released its 5G end-to-end solutions, including its latest innovations in wireless technologies, bearer networks, and service applications, as well as its 5G core network white paper, presenting the technology route for 5G core network evolution and development.
Zhang Jianguo, senior vice president of ZTE, said the group was willing to go all out with industry partners in standards, spectrum, technology, architecture, practices, and other ecosystem fields in order to make 5G a reality.