Mixing sounds
By Chen Nan | China Daily | Updated: 2017-07-06 07:33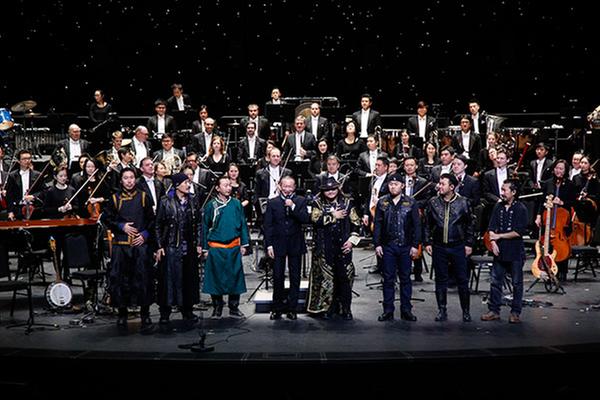 Tan Dun (center) and the rock band Hanggai stage a concert in Macao in December 2016.[Photo provided to China Daily]
Tan Dun will lead a symphony orchestra and a Mongolian rock band on a fusion path at the ongoing Shanghai festival. Chen Nan reports.
Chinese composer and conductor Tan Dun is a musician of many sounds. Despite his background in classical music - he was trained at the Central Conservatory of Music in Beijing in the 1970s, Tan has created music with the sounds of water, wind, paper and the chirping of birds produced by phones.
Combining classical symphony with rock in his latest experiment, the 60-year-old composer will take the baton, together with the Shanghai Symphony Orchestra and Hanggai, a rock band of ethnic Mongolian musicians, to present a concert, titled Symphonic Rock, in Shanghai on Monday.
The concert is part of the ongoing Music in the Summer Air festival, which kicked off on July 2, and will run for two weeks.
Tan's new work, titled Shanghai Transistor, will premiere at the upcoming concert.