Bike sharing scheme heads to London
By Bo Leung in London | chinadaily.com.cn | Updated: 2017-07-08 00:43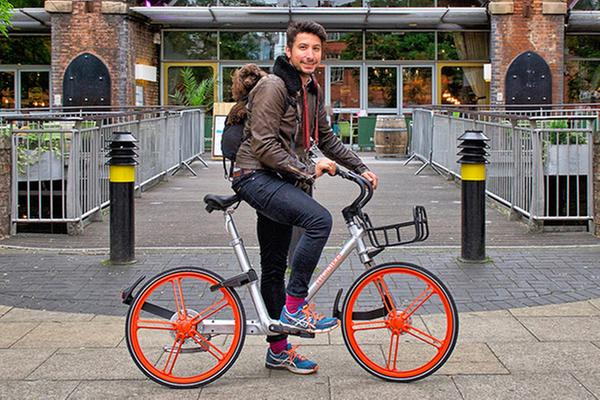 A user rides Mobike's shared bikes in Manchester. [Photo provided to China Daily]
Chinese bike-sharing company Mobike could be competing with London's indigenous bike hire scheme at the end of the month as the firm eyes up market in the English capital.
Following Mobike's launch in Manchester, Ealing borough council in London is currently in talks with the bike rental company to run a pilot project in Acton, with plans to cover the whole borough by next year.
Shanghai-based Mobike, which operates 5 million bikes in China and is backed by Foxconn and internet giant Tencent, will roll out 750 bikes in the west London project.
Last month, Mobike announced it raised $600 million funds to accelerate its global expansion plans.
However, concerns have been raised that the bicycles could become nuisance in public areas because riders do not need to return them to specific docking stations, unlike the Boris-bike.
A cabinet committee report said: "The main risk identified is likely to be related to poor parking by users and anti-social behavior by others (eg tipping over bicycles). However, the bicycles are quite heavy, making tipping them over quite difficult, and there is an alarm which goes off should the bicycle be moved more than a few feet whilst locked."
The report highlighted Mobike's notice and penalty system on the app which charges more or remove part of the users credit if cyclists continuously park the bikes poorly or in inappropriate places.
Users of the cycle hire scheme will have to download an app that allows riders to unlock an available GPS-enabled bike by scanning a QR code on the bicycle.
After finishing their trip, the cyclist will manually lock the bike and leave it in an authorized parking location.
Riders will have to pay a 50 pounds deposit to join and would be charged 50 pence for 30 minutes.
The report noted that if the scheme is given the go ahead then Ealing would be amongst the first local authorities in the country to have such a cycle hire system.
The borough will not have to dig into its coffers either as the scheme would be run as a private enterprise by Mobike.
The council's cabinet will consider the proposal at a meeting on July 11 and if given the green light, the scheme will launch on July 27.
A review will then be made at the end of the year and the bike-hiring scheme could be rolled out to the rest of the borough by March next year.
Contact the writer at boleung@mail.chinadailyuk.com