China-UK team seeks landslide early-warning system
By ANGUS McNEICE | China Daily | Updated: 2017-07-13 09:27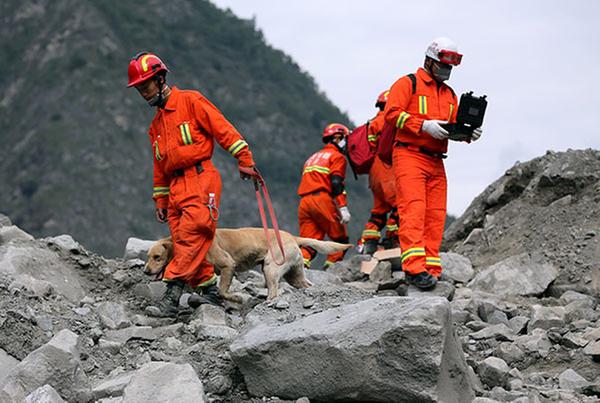 Rescuers check for signs of life in Xinmo village, Sichuan province.[Photo by Feng Yongbin/China Daily]
Researchers in China and the United Kingdom hope to use satellite imaging for the early detection of landslides in Southwest China, such as the one in late June that engulfed a village in Maoxian county, Sichuan province, leaving at least 10 dead and 73 missing.
A team of researchers from the UK's Newcastle University and several Chinese institutions analyzed before and after satellite images of the Maoxian region that show the danger area had been moving at a slow pace for at least six months before failing completely.
The team identified 10 other active landslides in the region and forwarded the information to authorities.
Li Zhenhong, professor of imaging geodesy at Newcastle University, said: "When you consider this sort of timescale, it suggests that a landslide early-warning system is not only possible but would also be extremely effective."
Brought on by heavy rainfall, the Maoxian landslide swept through homes in Xinmo village and buried a 1.6 kilometer section of road under an estimated 8 million cubic meters of rubble. A second landslide hit the village three days later, and a third also struck Shidaguan town 20 kilometers away.
Li said: "If we can detect movement at a very early stage, then in many cases it is likely we would have time to put systems in place to save lives."
Researchers from Chengdu University of Technology, Tongji University, the China Academy of Space Technology and Wuhan University, participated in the study. They analyzed images captured by the European Space Agency's Sentinel-1 satellite radar mission, which comprises a constellation of two polar-orbiting satellites, operating day and night in all weather conditions.
Sichuan is frequently disrupted by tremors. In 2008, one of the most devastating earthquakes in China's history struck the province, claiming more than 69,000 lives.
The team hopes to use the technology to build a landslide database, mapping active landslides in Sichuan and other seismically active regions of Southwest China.
Li said: "Going forward, we can use this information to set up real-time monitoring systems using existing satellites such as GPS, Beidou and Galileo for those sites and whenever we detect abnormal behavior, the system can send out an early-warning message."
Landslides are among the most common natural disasters. More than 20,000 people were killed by more than 7,000 rainfall-caused landslides recorded around the world between 2007 and 2015, according to NASA's Global Landslide Catalog.