There's no place like Nebraska for beef
By James Healy | China Daily | Updated: 2017-07-25 07:12
I had to chuckle when I read a recent story in China Daily about how Terry Branstad, the new US ambassador to China, had a wish fulfilled shortly after arriving in Beijing to take up his new post.
It seems that Branstad, the former governor of the US state of Iowa, had remarked to a Chinese trade delegation visiting Iowa before his departure that he sure would like to have some US beef once he got to Beijing.
China had just renewed imports of US beef since a ban was imposed in 2003 following a mad cow disease scare, and Branstad wanted to get his fork into the good stuff.
As China Daily duly noted, his "wish came true when Branstad had prime rib from Nebraska to celebrate the return of US beef to China".
That's right - Nebraska beef, not Iowa.
I hail from Nebraska. There's a rivalry between neighbors Nebraska and Iowa that mostly involves beef, corn, wheat and football. But beef is the meat and potatoes of the friendly rivalry, and, in my humble opinion, Nebraska wins hands (or hoofs) down.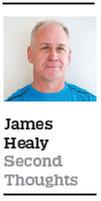 For starters, Nebraska, not Iowa, is home to the world-famous Omaha Steaks. When I was growing up in Omaha - the city on the river that divides Nebraska and Iowa - we often drove past the cattle stockyards, which at that time stretched clear to the horizon along L Street (although the stench in summer from feeder lots and packing houses went far beyond).
Beef, to put it mildly, is in our blood. According to the Nebraska Beef Council, "Cattle outnumber Nebraskans nearly 4 to 1." Additionally, it says, "Nearly 5 million head are finished and marketed in Nebraska" each year, compared with fewer than 2 million in Iowa.
As a teen, when I happily flipped burgers at Omaha's very own Bronco's Burgers (whose cheeseburgers, by the way, Warren Buffett himself is said to appreciate), we got our fresh ground beef, the best I've ever seen or tasted, each morning from Aksarben Beef. In case you hadn't noticed, that's Nebraska (not Iowa) spelled backward.
So, being a true Nebraska Cornhusker (corn is another trademark of the state, and it just so happens that quality beef is corn- or grass-fed), I naturally had a good laugh when I read the recent Page 1 article about Iowa's visiting agricultural delegation.
It was heartwarming to know that Branstad, whose state can brag quite rightly of having a special place in the heart of President Xi Jinping, was nonetheless upstaged right here in Beijing by the true beef champion - Nebraska.
Nonetheless, good-natured prime ribbing aside, I join many Chinese in being glad that Branstad, the "Iowa nice" gentleman who was the longest-running governor in US history, won the ambassadorship to Beijing.
After all, he and I both hail from the heartland of America, and it's good to know the nation shares its breadbasket, and beef brisket, with its good friend China.
I've certainly got no beef with that.
Contact the writer at jameshealy@chinadaily.com.cn
(China Daily 07/25/2017 page2)