President is prime mover behind historic revamp of nation's military
By ZHAO LEI | chinadaily.com.cn | Updated: 2017-07-26 05:40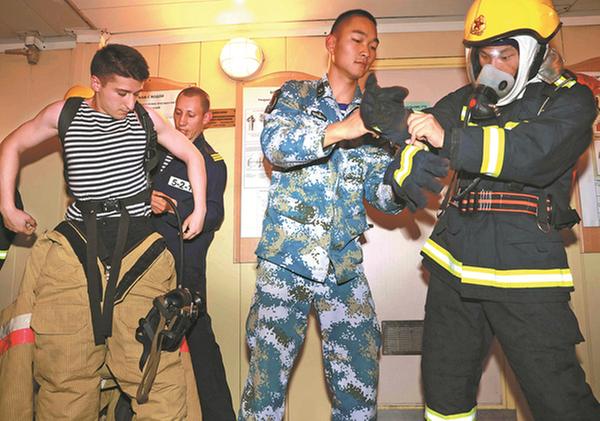 Chinese and Russian naval forces undergo joint training at the Baltiysk naval base in Kaliningrad, Russia, on Monday. This is the first time the Chinese Navy has participated in drills in Europe. WANG XIUJUN / CHINA NEWS SERVICE
PLA:Strong military equals strong country
The People's Liberation Army has been undergoing a historic reform guided by President Xi Jinping since late 2012, when Xi became top leader of the Communist Party of China and the Chinese military.
The reform has resulted in the biggest overhaul of the PLA in decades. The senior governing bodies of the world's largest military have been reshuffled — up to the Central Military Commission — to optimize the command chain. The regional command systems have been reorganized to boost joint combat ability. Group armies and institutions have been merged to improve efficiency, and new high-technology units set up to prepare for nontraditional fields such as cyberspace.
Changes continue in the life of almost every PLA member. Many officers, including hundreds of generals, have been moved to new positions while some returned to civilian life. Soldiers are now spending more time in combat training and live-fire exercises, and corrupt commanders have been expelled and punished.
"This is a comprehensive and revolutionary reform, which differs from all previous reforms in PLA history and all reforms of foreign militaries. There is no model to refer to. You can imagine how difficult it is," said He Renxue, deputy director of the CMC's Reform and Organizational Structure Office.
While the PLA is preparing to celebrate its 90th birthday on Tuesday, it is also ready to embrace more changes in the years to come. The changes have one goal: to make the PLA stronger, more integrated and more flexible so it will always be able to win modern wars.
New chapter
Behind the achievements, a sweeping anti-corruption campaign within the military has also contributed greatly to reshaping the PLA. More than 100 senior officers at the rank of major general or higher — including Xu Caihou and Guo Boxiong, two former vice-chairmen of the Central Military Commission — have been criminally convicted or given internal punishment since Xi took office in 2012, military newspaper PLA Daily said.
Not long after Xi was elected top leader in November 2012, he announced his determination to revolutionize the PLA and to build it into a mighty force capable of safeguarding China's security and interests.
This was because "China is at a crucial stage in its path toward becoming a world power" and "the country is facing new situations and new challenges when it comes to its security and development", so the Chinese military must be aware of its responsibilities and problems and make comprehensive changes, the president said.
"Without a strong military and a strong national defense, we could not achieve our goal of building a strong country," said Luo Yuan, a senior expert at the PLA Academy of Military Science. "To safeguard national security and development interest, we must have a compatible military force."
In November 2013, a plenary session of the CPC Central Committee declared a formal decision to undertake massive military reform. In March 2014, the CMC established a group under Xi's leadership tasked with drawing up a road map for the reform and guiding its implementation.
In July 2015, an overall reform plan was approved by top Party and military authorities. Four months later, the plan was unveiled, with goals to be achieved before 2020. The last day of 2015 saw establishment of the PLA Ground Force Headquarters, PLA Rocket Force and PLA Strategic Support Force, which formally started the historic shake-up.
In January 2016, the four top PLA departments — staff, politics, logistics and armaments — were disbanded and their functions and duties handed to 15 new agencies under the direct control of the CMC.
Soon after, regional systems also were reshuffled into the Eastern, Southern, Western, Northern and Central theater commands. They replaced seven regional commands named after their headquarters cities: Beijing, Shenyang, Jinan, Lanzhou, Nanjing, Chengdu and Guangzhou. The CMC also established the Joint Operations Command Center and Joint Logistics Support Force.
From December 2016 to April, the PLA Ground Force reduced the number of its group armies from 18 to 13. Also, the PLA's schools were cut from 74 to 43.
"The military reform greatly cut the size of the Ground Force ... and the staff of the Ground Force has dropped below 50 percent of the entire PLA," said General Li Zuocheng, commander of the PLA Ground Force. Li added that the slimming is to turn China's traditional massive land force into a strong, modern new army.
The Navy and Rocket Force, however, were expanded. The number of noncombatant personnel shrank, with slots allotted to fighting units.
The PLA has a goal of cutting its troops by 300,000, but the number of combatants has increased, said PLA Daily.
The guidelines, measures and steps of the military reform have all been planned under direct instructions from Xi, the newspaper said, noting that the president personally reviewed key reform documents and met with senior officers who were to lead important units.
Major General Zhang Yu, deputy director of the CMC's Reform and Organizational Structure Office, said that Xi's political wisdom and determination are the most important factors advancing reform.
Combat training priority
Each time Xi inspected a fighting unit, he would always raise the significance of combat readiness and joint operations capability, urging commanders and soldiers to treat them as their top priority.
Each combatant branch of the PLA — the Ground Force, Navy, Air Force and Rocket Force — has seen realistic training drills and exercises intensified due to Xi's attention. In 2016 alone, 15 infantry, artillery and air defense brigades from the Ground Force took part in over 100 live-fire exercises.
At the height of the exercises, there were over 400,000 troops simultaneously conducting drills on plateaus, islands, mountains and deserts.
Every year, each of the Navy's combat ships and submarines spends nearly eight months at sea on patrols, training and exercises. Every day, dozens of aircraft, over 100 ships and submarines, and thousands of Navy personnel are in operation, official documents say.
The Chinese and Russian navies are holding joint annual exercises in the Baltic Sea this week, the first time the Chinese Navy has participated in drills in Europe.
In the Air Force, freestyle fighting, live-fire land strikes and long-range sea patrols have become regular training subjects for all fighter jet and bomber units.
Each year, the Air Force Headquarters organizes four large exercises for different units and these exercises involve the use of sophisticated maneuvers, cutting-edge weapons and electronic countermeasures.
The Rocket Force has launched hundreds of missiles in about 40 live-fire exercises and engaged in more than 30 joint drills on its own and with other military branches over the past several years.
Innovation stressed
Xi has repeatedly stressed the role of science, technology and innovation in the Chinese military. He also attaches great importance to the civil-military integration.
In China, civil-military integration generally refers to the military and defense industry transferring technologies to civilian sectors and commissioning private companies to carry out research and development for the military.
In a meeting with national legislators from the armed forces in March, Xi said the military should take advantage of China's achievements in science and technology to help modernize its weapons and equipment.
The president told officers to look for, support and make full use of advanced technologies that can serve the military's modernization and to assist the transfer of defense technologies to the business sector.
At a ceremony last week marking the reorganization of three top PLA institutions, Xi said science and technology determine a military's combat capability, so the PLA must make more effort in its research and development and continue to boost innovation.
Upon Xi's request, the CPC Central Committee has established a Central Commission for Integrated Military and Civilian Development to foster the work.
The PLA, benefiting from strengthened efforts in research and development, has added some of the world's top weaponry, including the Type-99A main battle tank, J-20 stealth fighter jet and DF-21D anti-ship ballistic missile.
It is also developing a long-range strategic bomber and building a new aircraft carrier as well as a guided-missile destroyer called by experts the world's most advanced of its kind.