China in top three on international 'well-being' league table: study
By Angus McNeice in London | China Daily UK | Updated: 2017-07-27 16:56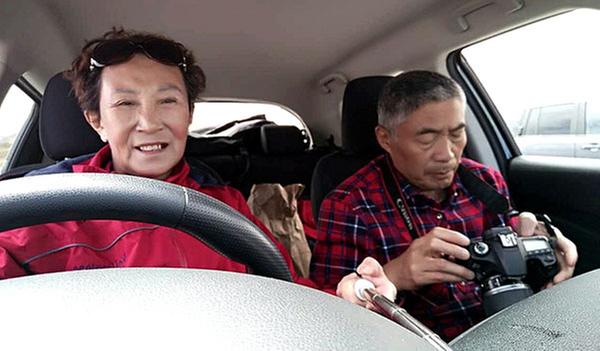 Chen Aiwu(left),a 64-year-old former bus driver, and her 66-year-old husband, Wang Dongsheng,spent 19 days driving around the US west. [Photo provided to China Daily]
Chinese people have a more positive outlook about their personal health and well-being compared with most other regions, according to an annual study.
The survey, conducted by Cigna, a health insurance provider, examined respondents' views on five main area: physical health, family life, social activity, finances, and work.
People living on the Chinese mainland, India and Thailand registered the highest overall "well-being scores" in the 2017 annual Cigna 360° Well-being Survey.
The UK came eighth, behind respondents in Spain, the United Arab Emirates, Indonesia, and New Zealand.
The lowest level of wellbeing was recorded in Turkey, Singapore, Hong Kong, Taiwan and South Korea.
But while the Chinese mainland's score of 64.9 was above the overall average of 62.3, it was lower than the country's previous figure of 68.7.
India had the highest wellbeing score of 73.
The Chinese mainland took third place from the UK, whose score of 60.8 saw it drop into eighth.
The UK scored poorly on every single financial measure including current finances, provision for retirement, meeting medical needs and maintaining standard of living.
Half of Britons said they did not spend enough time with their family, while a similar number said the country's economic situation was negatively affecting their financial situation.
Overall, one in five respondents said they had sufficient money for retirement or felt financially secure in case of job loss.
The study found that, in general, people worry most about maintaining their family's health and finances. The gap is also growing between employees' health care needs and benefits offered by employers. The study revealed that consumers are unknowingly falling into the "age trap" and are unprepared for the rising costs of healthcare.
"The insights we gained from this year's study reveal international respondents' concerns about how well they are able to take care of their healthcare needs," said Jason Sadler, president of Cigna International Markets.
"We also see people falling into the age trap by not planning well for medical expenses for retirement at a time where healthcare costs are rising," he added.
The largest decline in scores were seen in family welfare, which dropped from 70.8 percent in 2015 to 65.8 percent in 2016.
Respondents indicated they suffered from both a lack of money and time to take care of their families.
Cigna surveyed around 14,000 adults online in 13 regions during December.