Chinese firm buy landmark tower in largest-ever property deal
By Cecily Liu in London | chinadaily.com.cn | Updated: 2017-07-28 00:46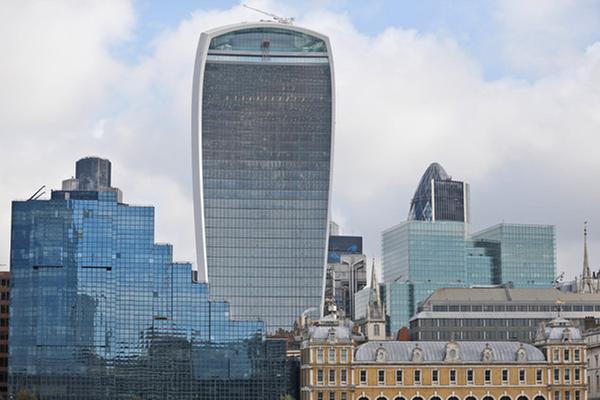 London's Walkie Talkie building was sold to a unit of Hong Kong-based food giant Lee Kum Kee Group for 1.28 billion pounds ($1.68 billion). [Photo/Agencies]
Chinese oyster sauce maker LKK Health Products Group has bought London's landmark commercial property 20 Fenchurch Street, also known as the Walkie Talkie for its unique shape, from British developers Canary Wharf Group and Land Securities for 1.28 billion pounds ($1.68 billion), it was announced Thursday.
The purchase is the biggest ever single asset deal in British property market.
The purchase followed continuing Chinese investment into London's commercial property sector over the past year, helped by the pound's depreciation amid Brexit uncertainties. It followed CC Land's purchase of London's Leadenhall Building for 1.15 billion pounds in March this year, which was the largest Chinese investment into UK commercial property before the Walkie Talkie deal.
Sammy Lee, chairman of LKK, said: "We are delighted to acquire 20 Fenchurch Street in Central London to expand our global presence."
The acquisition was made through LKK's wholly owned subsidiary Infinitus Property Investment. The company said the deal benefits from both reasonable rental income and stable capital appreciation, and will be a long-term investment.
The Walkie Talkie is a landmark building unique for having larger areas on higher floors. It is also commonly known for its popular Sky Garden restaurant, an almost must-go attraction spots for London visitors.
It provides an aggregate 66,240 square meters of office space, currently fully leased to investment-grade-rated commercial tenants. Even the shortest leases last for 13 years, meaning LKK has high security over rental income.
The downside of such a safe asset is its high transaction price. The transaction broke the record for a single UK asset, surpassing the 1.175 billion pounds paid by the Qatar Investment Authority to acquire the HSBC Tower in Canary Wharf in December 2014.
Rob Noel, Land Securities' chief executive, called the building's selling price "exceptional" from the sellers' perspective.
Eric Zhao, an associate director at real estate agent Savills, said price premiums for landmark buildings is common, and owning such a trophy asset also helps LKK to realize a brand value in the UK. "The property industry is all about track record, so that when they negotiate future deals in the UK, they would be much more trusted by their partners," Zhao said.
Contact the writer at Cecily.liu@mail.chinadailyuk.com