Putin clarifies Russia-China military ties, deplores possible US sanctions
Xinhua | Updated: 2017-07-28 09:08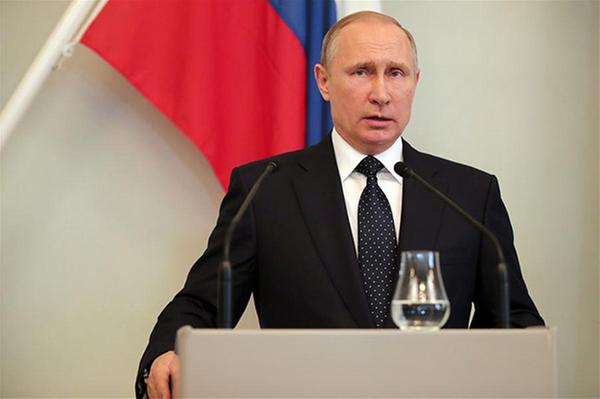 Russian President Vladimir Putin speaks at a press conference in Punkaharju, a resort in Savonlinna, eastern Finland, on July 27, 2017. [Photo/Xinhua]
SAVONLINNA, Finland - Russian President Vladimir Putin underlined on Thursday that his country's military cooperation with China would bring balance to the world.
Meanwhile, he denounced the investigations into the alleged Russian influence in the United States presidential election as well as the possible US sanctions on Russia as an effort to sacrifice bilateral relations.
Putin made the remarks at a press conference in Punkaharju, a resort in Savonlinna, eastern Finland after holding a lengthy talk with his Finnish counterpart Sauli Niinisto.
Putin travelled to the picturesque border city by helicopter at midday to observe the centenary of Finnish independence. The working visit coincided with the Russia-China naval exercise on the Baltic Sea.
The joint drill kicked off in the past weekend, and Chinese navy has sent a fleet of three vessels and some helicopters and marines to take part.
RULES OUT MILITARY BLOC
Assuring the media, Putin said that the military cooperation between Russia and China is not directed against anyone, and is not meant to start to form new military blocs.
For his part, Niinisto said it was not the first exercise between China and Russia, nor the first time for Chinese vessels to come to Europe, adding that Chinese navy has been in the Mediterranean before.
"Also Finland takes part in exercises in the Baltic, such as upcoming Aurora with Sweden and the US," said Niinisto. "Aurora is not intended to form blocks as well."
As part of the annual military cooperation program, the drill codenamed "Joint Sea 2017" aims to jointly carry out rescue missions and protect the safety of maritime economic activities.
The regular joint exercises have become an annual program, as Putin emphasized that the two countries have strategic cooperation in the fields of economy, politics and military.