Xi's speech inspires confidence in socialism with Chinese characteristics
Xinhua | Updated: 2017-07-30 06:09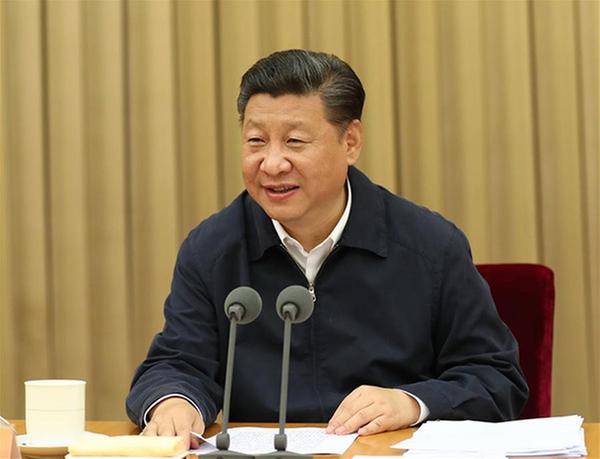 President Xi Jinping, also general secretary of the Communist Party of China (CPC) Central Committee and chairman of the Central Military Commission, addresses the opening session of a workshop in Beijing. A workshop for provincial and ministerial officials was held from Wednesday to Thursday in preparation for the 19th National Congress of the CPC. [Photo/Xinhua]
BEIJING - President Xi Jinping's speech at a high-level workshop has greatly inspired the nation's confidence in advancing the cause of socialism with Chinese characteristics.
The workshop from Wednesday to Thursday gathered provincial-and-ministerial-level officials and was a significant meeting in preparation for the 19th Communist Party of China (CPC) National Congress to be held later this year.
Xi, also general secretary of the CPC Central Committee and chairman of the Central Military Commission, summarized achievements since the 18th CPC National Congress in late 2012 and highlighted the importance of socialism with Chinese characteristics.
It is through socialism with Chinese characteristics that the CPC has seen the country stand-up, get wealthier and become the world's second largest economy.
Over the past five years, the CPC Central Committee with Comrade Xi at its core has scientifically grasped the development trend of modern China and the world, complying with the wishes of the people and leading the Chinese people to solve a number of deep-seated problems.
Achievements were also made in building a moderately prosperous society, deepening reform, advancing the rule of law and strengthening strict Party governance.
Despite a global economic slowdown, China's economy is stable and has seen growth as reform gains momentum. In the first half of 2017, China's economy continued steady expansion with GDP up 6.9 percent year on year to about 38.2 trillion yuan (5.6 trillion U.S. dollars).
Moreover, the country has seen a "new normal" economic development path, featuring higher quality, efficiency, equality and sustainability.
These achievements not only inspired the nation, but also won global acclaim.
Currently, faced by internal development challenges and a complex global situation, the CPC -- the largest ruling party in the world, with more than 89 million members -- needs to solve deep-rooted problems while tackling challenges posed by a shift in global power.
Domestically, the CPC and the country have witnessed historic changes since the 18th CPC National Congress. To address the challenges of uneven, uncoordinated and unsustainable development, China has embarked on a road of innovative, coordinated, green, open and shared development.
Globally, China is moving towards the world's center stage amid more severe challenges than ever before.
Xi said, "In planning and advancing the various work of the Party and the state, we must thoroughly analyze and precisely evaluate national, international and Party conditions under the current circumstances," calling for the utmost efforts to prepare for the worst while striving for the best.
As China's development is standing at a new historical starting point, and socialism with Chinese characteristics has entered a new development stage, it is necessary to grasp the historical change and achievements of the Party and the state.
China's major achievements in socialism with Chinese characteristics has created a new model of modernization for developing countries, thus providing Chinese wisdom and Chinese solutions to problems facing mankind.