Chinese youth orchestra debuts in US, holds tour back home
By Chen Nan | China Daily | Updated: 2017-07-31 07:24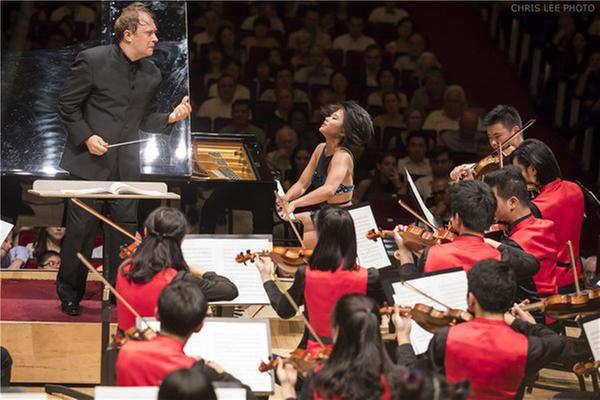 The National Youth Orchestra of China makes its debut at Carnegie Hall in New York on July 22. Chinese pianist Wang Yuja also performs at the concert. [Photo by Chris Lee/For China Daily]
The newly formed National Youth Orchestra of China made its debut at the Carnegie Hall in New York on July 22.
Under the baton of French conductor Ludovic Morlot, the orchestra performed Chinese-American Zhou Long's The Rhyme of Taigu and Dvorak's Symphony No 9 (From the New World).
"If Saturday's performance was a test run for this new venture, these Chinese musicians scored big," music critic Anthony Tommasini wrote in the New York Times on the orchestra's Carnegie show that featured Chinese pianist Wang Yuja.
Xie Liyuan, a 17-year-old violinist from the high school affiliated to Shanghai Conservatory of Music, says: "It was an unforgettable experience of performing at the Carnegie Hall. By performing in the orchestra, I learned to listen to others' playing. We made great effort together as an orchestra."
Inspired by the National Youth Orchestra of the United States, which started in 2013 as a Carnegie project, gathering more than 100 musicians from ages 16 to 19, the National Youth Orchestra of China was launched in December. Online auditions were held in 2016 and 105 musicians from ages 14 to 21 were selected to perform in the Chinese orchestra.
The orchestra kicked off its national tour by playing in Beijing, Shanghai and Suzhou over July 26-29.
Composer Ye Xiaogang, who teaches at the Central Conservatory of Music, has been appointed as the first director of the orchestra.
Nicholas Brown, a pioneer of the project that launched the Chinese youth orchestra, says: "In China, much focus of classical music training was on solo performance, which was amazing. But we also think that Chinese have the potential for orchestral performance."
The other pioneers are Vincent Accettola and Paige Breen. The three former students of Yale University initiated the project after Accettola noticed young Chinese watching their performance during the US national youth orchestra's China tour in 2015. That led them to develop an orchestra for Chinese youth.
The Chinese students learn orchestral skills and get passionate about performing, Brown says in Beijing.
Conductor Morlot says: "The whole goal is to be able to approach music from the perspective of listening to one another, to learn from one another, which is a great challenge for these young Chinese musicians."
Trained as a violinist, Morlot had the chance to play in an orchestra from a very young age.
"I played lots of chamber music and (for) orchestras. I had the chance to grow (along) with that heritage and I wanted to share it with these Chinese musicians," he adds.