Chinese chime orchestra enchants Auckland audience
Chinaculture.org | Updated: 2017-08-01 16:20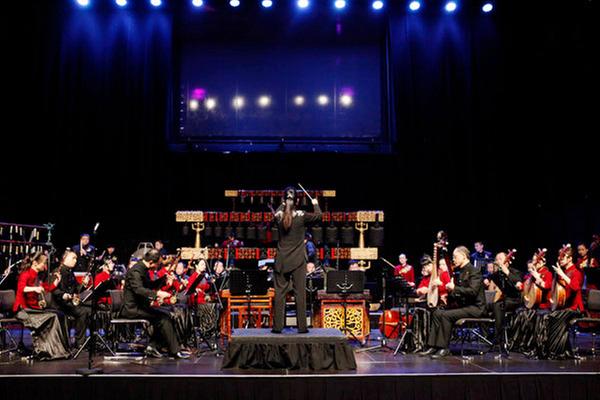 The Hubei Chime Bells Orchestra performs at Auckland's Victory Convention Center, July 26, 2017. [Photo/Chinaculture.org]
Following their debut show in Australia, the Chime Bells Orchestra from Central China's Hubei province enchanted over 2,000 in the audience at Auckland's Victory Convention Center on Wednesday.
Led by conductor Zhou Wen, the orchestra transported the audience back in time to some two centuries ago, with a performance on various traditional Chinese instruments, including chime bells, the guzheng (a Chinese zither), erhu (a two-stringed bowed instrument) and pipa (a four-stringed plucked instrument).
According to Qin Desong, head of the orchestra, the chime instruments used in the concert were made based on the ancient Zenghouyi Chime Bells, which date back to over 2,400 years ago.
"The bells were popular in the pre-Qin Dynasty (c. 21st century -221 BC)," Qin said. Aside from creating the sounds of modern pianos, the chime bells are also visually attractive with exquisitely crafted patterns on them, including dragons, phoenixes and flowers.
Qin quoted US musician Yehudi Menuhin as saying, "We can no longer hear any sound from ancient Greek instruments. Only these Chinese bells can still recreate the music back to 2,400 years ago."